The Experts: Understanding the markings on nuts and bolts
Q: What do the markings on bolts and nuts mean?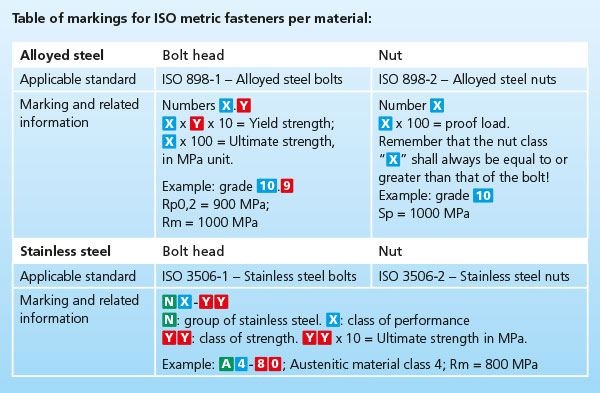 A:  Bolt heads and nuts are often marked with numbers, letters, dashes, slashes, dots, or an assortment of other marks. Fasteners commonly have two different markings: a unique manufacturer identification symbol – such as letters or an insignia – and information about the fastener strength. Such markings differ based on how the fasteners were made. See the table for the alloyed steel metric and stainless-steel metric fasteners that comply with ISO standards. UNC thread fasteners mainly comply with ASTM standards.
Due to lack of space, markings can be missing on smaller sizes, such as those with diameters below M5 according to ISO 898-1. However, the bolt class must be marked on the head above this size.
ASK THE EXPERTS
Do you have a question about bolt securing?
Put the Nord-Lock experts to the test.
Email your questions about bolt securing to

experts@nord-lock.com
Abonner på vores gratis magasin
Hold dig opdateret med de seneste nyheder, analyser og viden i boltebranchen ved at abonnere på magasinet Bolted!