Expander systemet sparer en dags arbejde
Gamle Skog er et skovhuggerfirma, som bl.a. har en række skovningsmaskiner. Maskinerne arbejder i princippet året rundt, og borteliminering af bekostelig udetid har altid en høj prioritet for Gamleby.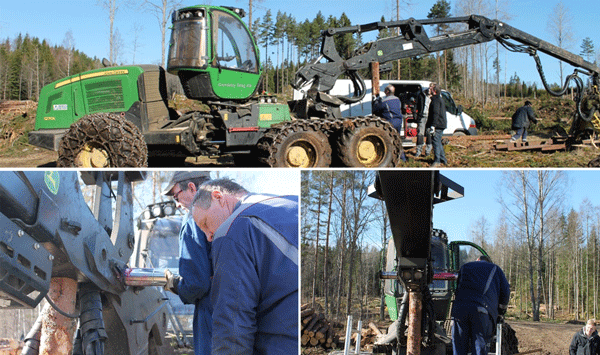 Da en af førerne af en skovningsmaskine så nærmere på sit arbejdsredskab, opdagede han, at fremspringene mellem bom og stolper var slidte. Selskabets ejer, der ofte selv klarer reparationerne, havde gode erfaringer med Expander systemet fra tidligere. Han besluttede straks at udskifte den originale drejetap i skovningsmaskinen med en fra Expander.
Hele udskiftningen tog knap to timer. Expander drejetappen blev monteret direkte på de slidte fremspring. Den dobbelte låsemekanisme på Expander drejetappen øgede stabiliteten, gjorde maskinen mere sikker og minimerede sliddet på forbindelsen.
Hvis Gamleby Skog havde valgt at bruge en ny original tap i stedet for en drejetap fra Expander, ville de have været nødt til at transportere skovningsmaskinen ind på deres værksted for at montere den der. Hele udskiftningen ville have taget næsten en hel dag. En traditionel løsning ville desuden kun have løst det umiddelbart foreliggende problem – der ville alligevel opstå slid igen.
Efter udskiftningen var skovningsmaskinen tilbage for fuld kraft i løbet af et par timer, og Gamleby Skog blander sig nu i koret af tilfredse kunder af Expander systemet.