Providing an antidote to disaster
When Philippe Nouaille came to his present job after 15 years on-site at nuclear power plants he took a fresh look at the ITS shut-off valves he is now responsible for to see how they could be better secured against earthquakes – the natural disaster which gives nuclear engineers their biggest headaches – and how maintenance on them could be improved. He's been recommending Nord-Lock washers for two years now, and they are mandatory in contaminated areas because of the speed with which they can be put on and taken off.
What is the CIPN?
"The CIPN, Centre d'Ingénierie du Parc Nucléaire, is based here in Marseilles and is responsible for the maintenance of existing nuclear plants. We are part of EDF which has 38.1 million customers worldwide and 160,913 employees. Around 1,000 work for the CIPN. We have 58 nuclear reactors in France and are currently overseeing construction of the first EPR (European Pressurised Reactor) unit in Flamanville with a second scheduled to be built at Penly. Four EPRs will be built in the UK, two in China through a joint venture with China Guangdong Nuclear Power Group, four in the USA through a 50/50 joint venture between EDF and Constellation Energy called Unistar Nuclear Energy and we are gearing up to take part in Italy's nuclear revival in partnership with Enel."
And your particular section, the QR?
"In the QR, for 'qualification et robinetterie' (qualification and valves and fittings), we are responsible for ensuring equipment is kept up-to-date with the constantly evolving rules concerning the security of pressurised equipment and we approve the spare parts supplied to us. All this for the ITS shut-off valves and anti-fire valves."
What size are these shut-off valves?
"Well, they don't look anything like your bathroom or kitchen taps! These shut-off valves are of various sizes but can be up to 3m high. We don't make them ourselves of course, but we establish the specifications."
What made you turn to Nord-Lock?
"Nord-Lock is one of our solutions to avoid loose bolts and we turned to it after doing a technical and business report. We'd had an incident when a bolt had been poorly tightened and it took engineers 10 weeks to verify all the other bolts. You can imagine the waste of time and money!"
"We don't insist that Nord-Lock be used where the expense is not justified but we do insist that this product be used in radiation contaminated areas because they allow a bolt to be tightened very quickly. The technicians go in, tighten the bolt and leave and for us their safety is paramount. With Nord-Lock we can be certain that once tightened the bolt will hold. Don't forget we are working in a nuclear power plant not a supermarket and cannot afford to make the slightest mistake!"
"We also like the fact that it can be loosened when necessary and that it can be re-used."
Any improvements you'd like to see in the product?
"I would like to see a system, perhaps of micro-capsules of colour that would break when the washers are locked together, which would indicate that they were correctly positioned because for the moment you can never be sure that this is so."
Note: Nord‑Lock washers are pre-assembled with a soft hot melt adhesive in order to assure that they are always correctly positioned.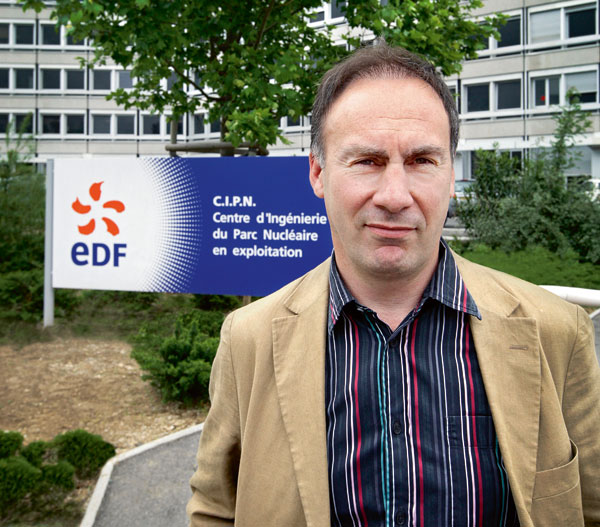 FACTS: PHILIPPE NOUAILLE
Age: 49.
Role: Project manager responsible for qualifying the ITS (Important To Safety) shut-off valves in nuclear power stations within the material maintenance department of the CIPN, the engineering centre for nuclear power stations, part of the French-based global electric power company, EDF.