Torquelator calculates preload and the corresponding torque for bolted joints secured with Nord-Lock original washers and Nord-Lock X-series washers. The web application can be used on any mobile device – so you can easily make calculations on-site, without having to carry a brochure around with you.
Try Torquelator by Nord-Lock now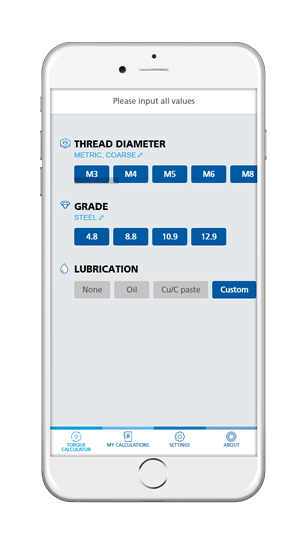 Features:
Two calculation methods (Kellermann&Klein and VDI2230)
Select between Metric and Imperial
Nord-Lock washer torque guidelines for fine or coarse thread
Option of predefined or customized value for lubricants
Advantages:
Easily calculate the correct tightening torque and preload, wherever you are
App is available on computer and all mobile devices
No need to carry around torque table for bolt tightening with you
How does it work?
Select the calculation method
Select the size of your bolt
Select the bolt grade
Select the lubricant or enter your own friction coefficients
Try Torquelator by Nord-Lock now
Frequently Asked Questions
How to save the application to your mobile device:
iOS:
Tap the Share button on the menu bar
Tap on Add to Home Screen
Enter a name for the shortcut "Torquelator by Nord-Lock" then tap on Add in the upper-right corner to add to your home screen
Android:
Tap the menu button of the browser and tap Add to home screen
Enter a name for the shortcut "Torquelator by Nord-Lock" and then it will be added to your home screen
Note: This is a web application that can only be downloaded through the link below. You will not be able to find the app on the App Store or Google Play.
The Importance of Torque and Preload
The first step to a secure bolted joint is achieving the correct torque and preload. Torque tightening involves applying a known rotational force to the assembly to achieve what's known as preload, or clamp load. This is the tension in the bolt, which has been specified by the design engineer for best performance of the machinery. Torque tightening using correctly calibrated tools is normally sufficient to achieve a good preload for most industrial bolted joints. Remember that torque varies when tightening and untightening.