Using Expander System as a lug wear repair solution for construction equipment will boost workshop business
Over 35 years experience has made us the global pivot pin experts, bringing increased stability and precision to all machines, including excavators, wheel loaders, backhoe loaders and ADTs. The Expander System is an easy, cost effective and permanent repair method. Using Expander results in no more machine vibrations, no more rattling and no more lug wear.
We are a trusted supplier for lug wear solutions used by workshops, operators and global machine manufacturers all over the world, proudly supplying Caterpillar, Komatsu, John Deere, Terex, Hitachi, JCB, Liebherr and Volvo.
Eliminates wear on pivot lugs
What causes lug wear?
Meet Jonny who talks about lug wear and how lugs with a conventional straight pin are worn due to three reasons. Do you know which ones - and that you can prevent the formation of lug wear?!
See how Expander reduces stress in the axle

Replacing a traditional straight pin with an Expander System pivot pin of the same diameter maximizes safety and minimizes the risk of axle breakage. The system's double sided axial locking makes a stronger machine.
The axle ends are fixed in the lugs by the expanding sleeves and the load case cuts the axle stress in half.

"We use Expander System because we know it pays off."
Quote by aftermarket manager of alarge servicing workshop for construction machinery
Expander System pivot pin is a direct replacement for existing straight pin.
Easy & fast installation/disassembly
Expansion possibility of 4 mm
No special tools needed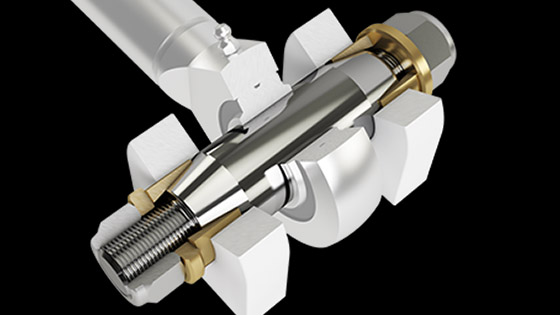 We did not need to machine the lugs. Expander's pivots fixed the oval shape and we got rid of the vibrations!
Maintenance Manager
Talk to the pivot pin experts!
More lug wear repair work than you can handle?
The Expander System eliminates wear on pivot pins and cylinder rod ends. The solution is used as a direct replacement for existing straight pins, without re-design or alteration. It is installed straight into the worn lugs, making it a perfect solution for field installation.
The Expander System is an expanding pivot pin that does not require line boring, allowing for more throughput through the workshop. Questions? Email us at expander@nord-lock.com.
From experience we know that pivot wear will occur sooner or later, that's why we chose the Expander System once again. We know that the cost will pay itself off.
Large fleet owner
Time consuming repairs? Try a permanent fix to lug wear!
For many workshops, machine owners and operators, lug wear is simply accepted as an unavoidable fact of life that requires repeating maintenance. But does it need to be?
Do you find it challenging to measure the wear of the lug?
It can be challenging to measure lug wear accurately.
We have the perfect solution - order an extra pair of sleeves!
Unsure if you got the lug wear measurement correct before dismounting the original straight pin? We offer repair kits that give a total expansion possibility of 4 mm!
The Expander System should be part of the bridge standard. The system introduces an entirely new way of thinking; a solution that makes operation safer, maintenance work easier and saves a lot of money!
Engineering Project Manager
See how easy and fast it is to make a permanent fix to lug wear on any construction equipment