Creating big opportunities for small distributor
Danish company Viggo Bendz has recently started supplying Stena Recycling with the Expander System for their grab machines - a potentially lucrative development for a small independent operator.
As prices continue to be down in the steel and metals industries, developing a successful partnership with a major customer can go a long way to securing profitability for a small business. The Danish company Viggo Bendz is based in Høng, on the west coast of Sjælland, the largest and easternmost of Denmark's islands. The company employs eight people and delivers solutions and equipment for crushing, demolition and sorting. Poul Erik Jakobsen is owner and CEO. He took over the running of the business in 2006, just three years after it was formed. "When I started," he says, "we were mainly dealing with excavators. Then one day I had a realization that the company would not survive in the future if we only sold certain kinds of bolts. We needed to expand our range in order to compete."
The ability to anticipate change has been important to Viggo Bendz from the outset. Currently, one half of their business is parts for excavators such as teeth, buckets, cutting edges, hydraulic hammers and grabs. However, the other 50 per cent of their turnover comes from machines and complete plants for the environment and recycling business. Contractors are the main users of the Expander System bolts that they distribute, yet they have been well aware of Expander System's potential in the recycling business, where Stena Recycling is one of the main players.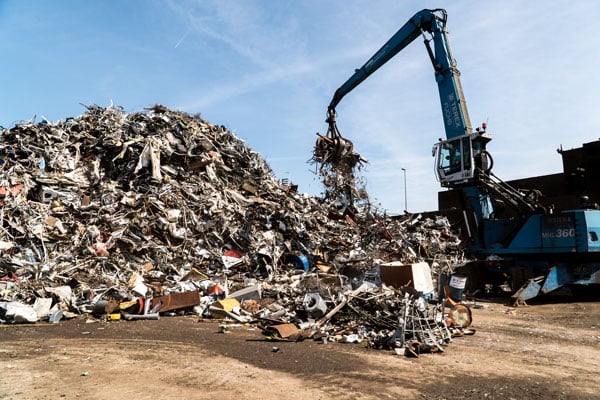 Located in five markets – Sweden, Denmark, Norway, Finland and Poland – Stena Recycling is committed to sustainability in their business practice. The two companies have had a long relationship, with Viggo Bendz supplying standard bolts for over a decade. However, they recently offered Stena Recycling the Expander System to test on their so-called 'orange peel grabs' (see picture). With this kind of machinery subject to wear and tear through constant and prolonged use, Stena Recycling have now taken the opportunity to employ a solution that will reduce the need for maintenance and will increase the safety and machine life cycle, Jakobsen believes. He says that, "By introducing the Expander System, Stena Recycling is saving money. Because of the quality, it represents a long-term investment for them. The industry is tough at the moment, due to the market price for steel and metals. Longer machine life obviously means both greater sustainability and profitability."
The importance of supplying a sustainable solution to today's market is something that Viggo Bendz knows well. The waste recycling business is one segment that is at the forefront of sustainable work practices, as companies increasingly focus on resource management and turning waste into new raw materials. More organizations are looking toward employing technology that en­ables this process and fits in with their sustainability strategy. Being able to supply a pivot solution that improves the durability and longevity of moving mechanical parts, means contributing something vital to the business of customers and to the environment as a whole.
As for being a smaller independent company in the current business climate, there are significant advantages according to Jakobsen. "We are focusing on quality products, which means that it is not always the cheapest solution for the customer. It is vital to us that we provide excellent service. Because of our size, we can be flexible and change direction quickly to help our customers and our own business if we need to."
Being a distributor for the Expander System suits Viggo Bendz' business model. They have a market presence all over Denmark, covering industries such as construction, mineral and scrap recycling. Currently Expander System accounts for around 200,000 euros of their annual turn­over. Like almost every modern business, raising the company's profile nationally has meant increasing their online presence. "We are focusing a lot on social media now," continues ­Jakobsen. "Once a week we try to upload a case story to Facebook. Every time we upload an Expander System case, we get a couple of new customers. This is something that we must continue to use to our advantage."
With pricing being crucial to compete succesfully in the market for the foreseeable future, Viggo Bendz is both positive and pragmatic about its current position. "Yes, it is all about price," Jakobsen says. "However, with Expander System we do not have so many direct competitors. Being able to offer reliable, long-term solutions gives us the chance to target customers in waste recycling and other sustainable businesses. Even travelling around locally, you see how many grabs and different machinery are in operation. This potential is exciting for us."
Benefits gained:
Longer machine life.
Less maintenance.
Improved reliability.
Increased uptime.
FACTS: THE SOLUTION
CLIENT: Viggo Bendz.
END CUSTOMER: Stena Recycling.
LOCATION: Denmark.
PROJECT: To provide solution for pivot wear on grab machinery.
NORD-LOCK GROUP PRODUCT: The Expander System.