Is Locking Wire the Best Bolt Locking Method?
Safety wire/locking wire or Nord-Lock washers? Let us take you through the key parameters so that you can make the right choice.
Locking Wire/Safety Wire
Nord-Lock Wedge-Locking
Locking capability
Not reliable. Installation requires special tools and expert knowledge. Functionality is highly dependent on operators' skills and experience.
Reliable. Quality is consistent.
Product range
Safety wire is commonly .020, .025, .032 or .041 inches in diameter and usually made of stainless steel, although other materials are available. Difficult to use on very small or very large bolt sizes.
M3-M130 (standard range)
Control over clamp load
Possible to lubricate as the locking function is not affected by lubrication. Installation is carried out after the tightening operation, thereby losing the ability to control the clamp load and even risking
a reduction of the original clamp load.
Constant coefficient of friction under the driven element. Plus, the locking function is not affected by lubrication, which provides good control over clamp load.
Reusability
Not reusable. Also leaves behind waste products when ends are clipped off or when cut off from secured fasteners that need to be removed during maintenance.
Reusable
Use in confined spaces
Limited use in confined spaces, as it is difficult to mount when bolted joints are already tightened.
Suitable and easy to assemble in confined spaces.
Life cycle cost
High. Not reusable. Fasteners require drilled holes and installation is timeconsuming, requiring specialized tools
Low. Due to improved productivity, minimized maintenance costs and reusability
Junker vibration test comparison of locking wire vs wedge-locking washers
Which bolt locking product should I use?
Get your free eBook on the topic of bolt loosening and see how different bolt locking products perform.
What you will find in the eBook: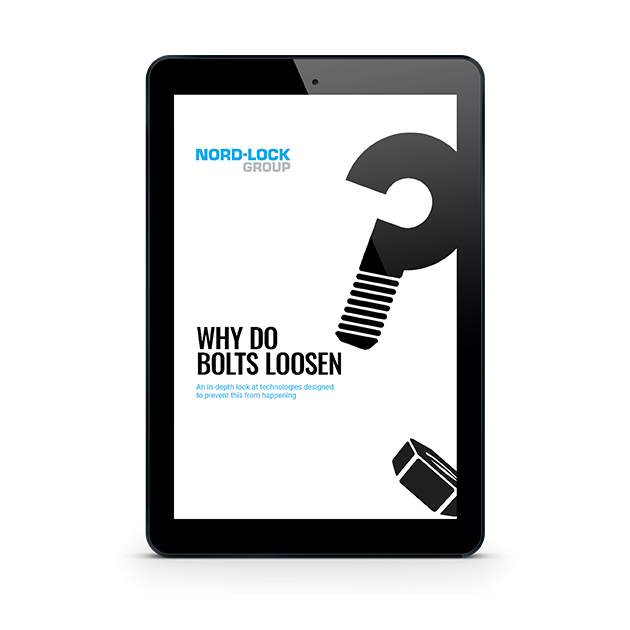 Pros and cons of the different bolt locking methods
Evaluation of different products
A print-friendly Guidance for Selection, to help you decide which product to use in your applications