Your result

| | |
| --- | --- |
| Capacite de blocage | 3 |
| Reutilisable | 0 |
| Securite opertateur | 2 |
| Cout d'acquisition | Moyen |
| Cout global | Moyen |
SCALE: 0 = Ne s'applique pas 1 = Inadapte 5 = Adapte

How did we calculate?
Is adhesive effective
against bolt loosening?
L'adhésif est appliqué sur le filetage du boulon et serré immédiatement. Les adhésifs ne peuvent pas être appliqués directement sur la fixation car ils nécessitent une surface propre pour assurer une adhérence optimale, ce qui augmente le temps d'installation. L'adhésif nécessite également un temps de séchage avant de pouvoir être utilisé en toute sécurité, ce qui peut prendre jusqu'à 24 heures. Il existe de nombreux adhésifs avec des propriétés différentes. Il est important de choisir le bon adhésif en fonction de votre application, matériau et température afin d'obtenir la capacité de blocage optimale. En effet, certains adhésifs peuvent être enlevés par chauffage et ne peuvent donc pas être utilisés à des températures élevées.
Read the full version in the eBook "Why do bolts loosen?"
(A comparison between common bolt securing options)
Scroll down to access the ebook.
Which bolt locking product should I use?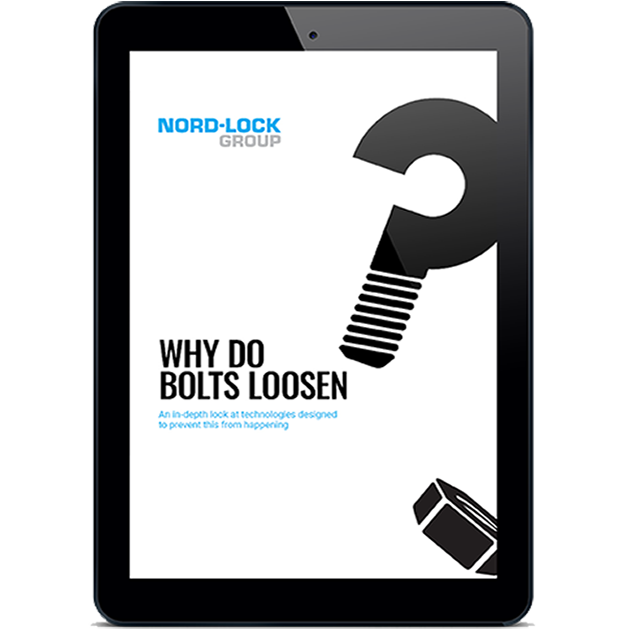 Pros & Cons of different bolt locking methods
A Guidance for Selection, to help you decide which product to use in your applications
DID YOU WAIT LONG ENOUGH FOR THE ADHESIVE TO CURE?
Talk about bolting challenges with us!
Do you need guidance choosing the best bolt securing solution for your application? Let our bolting experts guide you.
Try the Original Wedge-Locking Washer