Your result

| | |
| --- | --- |
| Capacite de blocage | 3 |
| Reutilisable | 0 |
| Securite opertateur | 2 |
| Cout d'acquisition | Elevé |
| Cout global | Moyen |
SCALE: 0 = Ne s'applique pas 1 = Inadapte 5 = Adapte

How did we calculate?
Are tab washers effective
against bolt loosening?
Les plaquettes arrêtoir sont une solution de verrouillage mécanique qui sécurise les assemblages boulonnés à l'aide d'un obstacle physique. La rondelle elle-même est un mince morceau de métal généralement rectangulaire ou circulaire. Elle est installée entre la tête/l'écrou du boulon et la surface de contact, l'assemblage est ensuite serré comme un boulon standard.
Une fois que le boulon est serré, la languette de la rondelle est relevée autour de la tête de l'écrou/de l'écrou du boulon pour le verrouiller et empêcher toute rotation. La fonction de verrouillage de la rondelle est normalement bonne, cependant de nombreux cas de rondelles mal installées, donc inefficaces, ont été signalés par les sociétés de maintenance et les propriétaires d'installations.
L'inconvénient majeur réside dans la méthode d'assemblage complexe.
Read the full version in the eBook "Why do bolts loosen?"
(A comparison between common bolt securing options)
Scroll down to access the ebook.
Which bolt locking product should I use?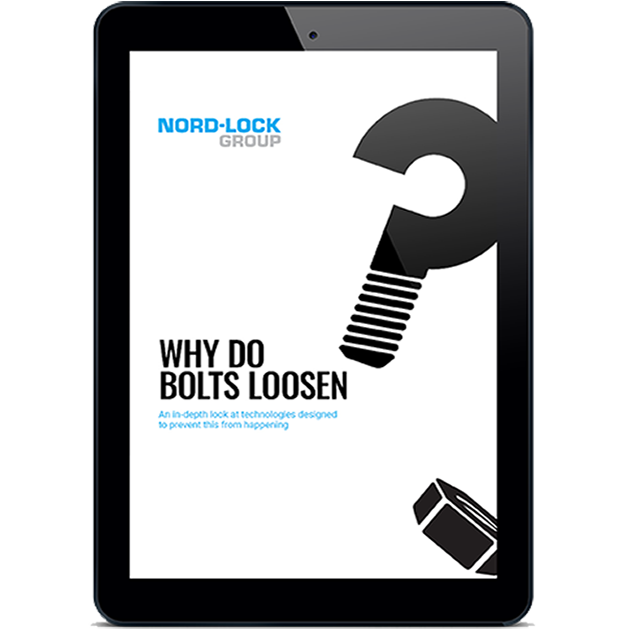 Pros & Cons of different bolt locking methods
A Guidance for Selection, to help you decide which product to use in your applications
EVER EXPERIENCED HAND INJURIES WORKING WITH TAB WASHERS?
Talk about bolting challenges with us!
Do you need guidance choosing the best bolt securing solution for your application? Let our bolting experts guide you.
Try the Original Wedge-Locking Washer