Can I Use an Additional Locking System with Nord-Lock Washer?
It is recommended to use only standard fasteners (nuts and bolts) with Nord-Lock washers. Other specialized locking systems, including prevailing nuts and adhesives, are not advisable and would not add any benefits to the joints.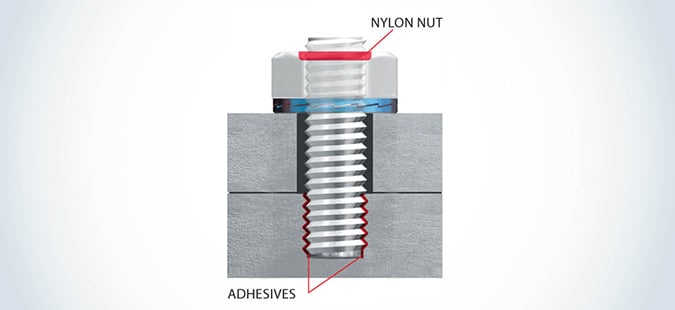 Theoretically, it is possible to use prevailing nuts and adhesives together with Nord-lock washers, but they will increase the thread friction when tightening the joint. When tightening, less of the torque can be converted into useful clamp load because the torque must overcome the additional friction. Also, increased thread friction raises the risk of torsional stress in the bolt and may lead to unexpected bolt failures. Additionally, these systems will add more cost to the joint.
Nord-Lock is a reliable, engineered system and there is no need to use any additional locking systems. The superior quality guarantees excellent tightening control and the joint is exceptionally secure.
The prevailing nut category includes a multitude of fasteners. Nylon insert nuts, metal insert nuts, flex top expanding nuts and distorted thread nuts are just some of the products that are available. These products add friction to the bolted joint and are more costly than a standard nut.
Adhesives are a little different but can cause the same problems. Some existing adhesives are thread lockers, joint sealants and thread sealants. In addition to adding undesirable friction to the bolted joint, the option of using a thread lubricant is also eliminated. A good lubricant is recommended in order to reduce friction, further minimize clamp load deviation and protect against corrosion.
To optimize your joints it is re­commended to use lubricated standard fasteners together with Nord-Lock washers which will result in a secure joint, predictable preload and low deviation.
Like this article and want more?
Get engineering and bolting insights delivered straight to your inbox. Subscribe to our insights newsletter now!
Subscribe to our free magazine
Stay up-to-date with the latest news, insights and knowledge in the bolting industry by subscribing to Bolted magazine!
Subscribe Bolted magazine