Preventing bolt thread galling and seizing
When and why does galling and seizing appear?
Galling is caused by a combination of friction and adhesion between metallic surfaces during sliding. When galling occurs material is adhesively pulled from one surface leaving it stuck on the other in the form of a lump. This process spreads rapidly as the built-up lumps induce more galling.
The tendency of a material to gall is affected by the material's ductility. Typically, softer materials are more prone to galling while harder materials are more resistant.
In bolting, thread galling appears during fastener tightening as pressure builds up between the contacting and sliding thread surfaces. Thread galling commonly occurs with fasteners made of stainless steel, aluminum, titanium, and other alloys.
In extreme cases galling leads to seizing – the actual freezing together of the threads and bolt lock-up. Continued tightening may lead to the breakage of the fastener or result in torn off threads.
Solution:
Lubrication of the internal and/or external threads.
Reduction of the installation RPM speed.
Selecting different stainless alloy grades for the bolt and the nut reduces galling resulting from different degrees of hardness. However, the strength of the nut always needs to be greater than the strength of the bolt.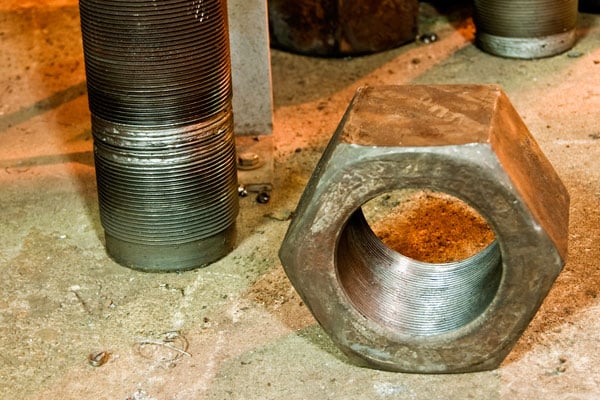 Like this article and want more?
Get engineering and bolting insights delivered straight to your inbox. Subscribe to our insights newsletter now!
Subscribe to our free magazine
Stay up-to-date with the latest news, insights and knowledge in the bolting industry by subscribing to Bolted magazine!
Subscribe Bolted magazine