Top tips from bolting expert
Bolted got a unique opportunity to meet ­Japan's foremost expert in bolting, Doctor ­Tomotsugu Sakai. His book Bolted Joint Engineering – Fundamentals and Applications continues to receive an enormous amount of support as the definitive work on bolt fastening.
How do you define ideal fastening, which you also covered in your book?
"Ideally, fastening should be based on the use of widely available, standardised fasteners, rather than specially designed parts. More importantly, ideal fastening should ensure a bolt fastening design that won't lead to any kind of failure. The entire product design becomes invalid if a single failure occurs. You must pay attention to every aspect. I consider 'evaluation without any omission' most important."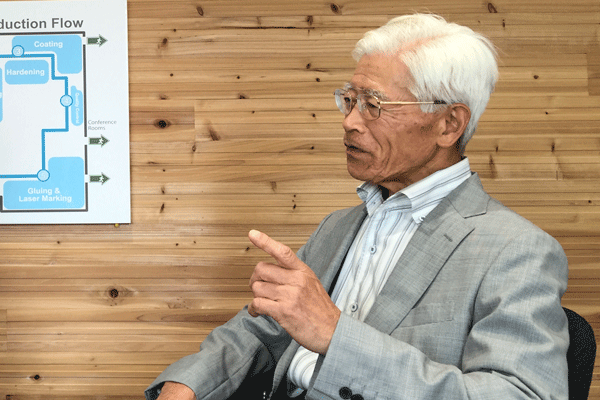 Is using lubricants an advantage in bolt fastening?
"Yes, if the fastened objects don't slip against each other, lowering the friction coefficient is favourable in all aspects. If fastened objects are in a 'loosening environment', they are more likely to loosen if the friction coefficient is low, but it does not necessarily lead to loosening.
They are in a 'loosening environment' if they are repeatedly subject to slip against each other with a force exceeding a certain threshold.


How do external forces cause slip, based on shear direction, axial direction and torsion?
"If an external force is applied in the shear direction, it would cause slip. If it is applied in the axial direction, the fastened objects would separate from each other – separation. Under these conditions, the lower the friction coefficient, the more likely loosening is to occur.
When writing Bolted Joint Engineering – Fundamentals and Applications, I used the conventional view of the slip phenomenon, explaining the slip of fastened objects on the contact surface – so-called 'macro-slip'. You can observe this with your eye, as this type of slip needs to be only 0.1 mm for visual confirmation. Around 1988, it was found that invisible 'micro-slip' actually occurs before the macro-slip and that it causes rotation, which is so micro that, whether turned in the direction of loosening or not, it can't be confirmed with the naked eye. This phenomenon, 'micro-slip', gradually diminishes the axial force. It was introduced in an article in the Journal of the Japan Society for Precision Engineering.
"If fastened objects are in contact with each other, conventional experiments can't measure the slip amount of a certain section of the contact surface or of other sections. But all of these values can be calculated using the finite element method, FEM. It has been used in the fastener industry since around 2000 and today most research on threaded fasteners utilises it. An article by Doctor Satoshi Izumi et al. in 2006 announced that gradual rotational loosening was found to occur with micro-slip (invisible minute slip)rather than macro-slip (clear, visible slip). I was shocked when I first read the article, which states that when micro-slip occurs repeatedly, it causes minute rotational loosening as small as 1 degree per 1,000 times or 1/1000 degree each time. A 1/1000-degree rotation is not at all observable to the eye. With the finite element method, it can be studied perfectly and it was demonstrated that micro-slip causes rotational loosening. I felt I was in trouble! [Laughs] The results drastically shook the concept of critical amount of slip.
I had thought that micro-slip would naturally lead to fretting wear, but didn't consider that it could cause rotational loosening. I had no way of testing that at the time. It was an eye-opening experience."
Micro-slip
A slip not visible to the naked eye. Gradually diminishing the clamp force, it can ultimately lead to visible rotational loosening (macro-slip). Settlements and relaxation of the material can also decrease the clamp force. Nord-Lock Group has developed X-series washers that deal with both forms of slip. They counteract all kinds of clamp force losses with the spring effect, while the wedge effect prevents spontaneous bolt loosening.
Facts: Doctor Tomotsugu Sakai
1941 – Born in Okazaki City, Japan
1979 – After working for Toyota Motor Corporation, receives his doctoral degree in engineering, mainly engaging in the strength and durability testing, research and development of various automobile parts.
2001 – Transfers to Toyota Techno Service Corp, engaging in education and technical consultation for threaded fasteners.
2007 – Retires and establishes Sakai Consulting Office on Bolted Joint Engineering, where he provides education and technical consultation for bolt fastening to this day.
Like this article and want more?
Get engineering and bolting insights delivered straight to your inbox. Subscribe to our insights newsletter now!
Subscribe to our free magazine
Stay up-to-date with the latest news, insights and knowledge in the bolting industry by subscribing to Bolted magazine!
Subscribe Bolted magazine