How Corus stopped money melting away
Corus is Europe's second largest steel producer. In normal trading conditions it generates annual revenues of more than 13 billion euro and produces about 20 million tonnes of steel a year. Part of the Tata Steel Group, it supplies many of the most demanding metal customers across the UK and EU.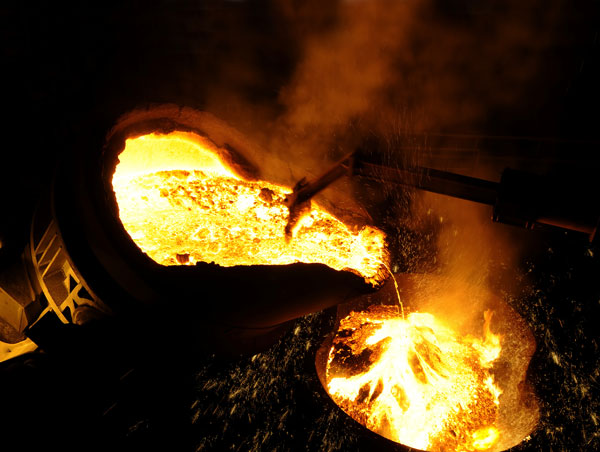 At roughly 30 km2 the CSP UK Port Talbot site covers a huge area, taking several minutes at motorway speed to pass, and directly employs some 3,500 people. It supplies hot rolled coil for applications as varied as construction, the automotive industry and domestic appliances. The underlying production process is called continuous casting – or Con-Cast – whereby a continuous stream of molten ­metal is solidified and cut into "semi-finished" slabs of steel about 20 meters long which are then ­re-heated and rolled according to ­customers' ­requirements.
The machinery at Port Talbot is still com­paratively new, having been installed in 2004, but engineers at the site had noticed that vibration was tending to cause some of the fastenings on parts of the machinery in one of its Con-Cast plants to work loose, creating the risk of unplanned maintenance and costly repairs or even replacement.
So in early 2008, Corus contacted its fastener supplier, Williams Fasteners, for advice on reducing these costs. Williams has been associated with Nord-Lock almost since the company entered the UK market about 15 years ago, so it knew who to contact about this problem.
Initial discussions between Williams' business development manager Richard Cliffe and Peter Higgins, Nord-Lock's technical sales ­engineer for the UK's South West, led to Higgins demonstrating the Nord-Lock Bolt Securing System to a group of key Corus maintenance staff at Port Talbot. As Mr Cliffe recalls, "Close collaboration between the Nord-Lock technical representatives, maintenance management at Corus, and ourselves as fastener suppliers to Corus for the whole of the UK, quickly enabled Corus to appreciate the advantages of the Nord-Lock range."
As a result, maintenance engineers identified two applications in one of the Con-Cast plants; in one casting machine, Caster 1, the performance of the driveshaft was dropping off as 22 mm bolts worked loose; and on a rotating ring in the turret of the Caster 3 machine, 36 mm bolts were shearing as a result of vibration. Both problems had been arising three or four times a year, with the necessary repairs causing costly delays and in some instances partial shutdown of the steel-making process.
"Initially, we fitted Nord-Lock washers to the Caster 1 driveshaft, which sits on the critical middle section of the plant that forms the steel slabs," explains Graham Thomas, Caster 1's planning engineer. "This was a stiff first test, as the potential of losing the shaft would have meant stopping the plant. But we went with Nord-Lock because of how its system resists vibration, and I'm happy to say the outcome has been very positive."
Having proved their value there, Mr Thomas then had them fitted to the Caster 3 turret, with equally positive results.
Since fitting Nord-Lock, none of the previous problems have been reported – in fact, such is their dependability that Mr Thomas can't put a figure on how much it has saved in maintenance costs. As he explains, "The savings are unquantifiable because using Nord-Lock washers has allowed us to avoid the unplanned shutdowns these issues used to cause."
"In practice, for example, one of my maintenance teams tells me that introducing Nord-Lock washers has meant that, even with our strict checking regime, they are confident that maintenance checks need to be carried out far less often now than the weekly ones we used to have to make."
That has enabled the engineers to eliminate this particular cause of unscheduled repairs and allows them more scope to concentrate on scheduled maintenance and keep all areas of the plant running smoothly.
And these initial applications at the site look set to be only the beginning. "Although we are the first people at the site to use the Nord-Lock system," says Mr Thomas, "the potential here is vast – simply because it's such a vast plant."
Facts: Corus continuous casting steel-making facility
Products: supplier of hot-rolled coil to a range of markets
Industries: include automotive, appliances, construction, packaging steels, and other applications using strip steel
Annual production: about 4.7 million tonnes
Number of employees: 3,500 (directly employed)
Founded: 1923
Bolt securing: Nord-Lock
Business arguments
This is how Corus Strip Products UK benefits from Nord-Lock washers:
Lower plant maintenance costs – even if the initial investment is higher.
Lower friction – lubricants can be used.
Less machinery wear, such as that caused by heat, vibration and corrosives.
Ease of maintenance – engineers need to check less frequently.
No adaptation needed – the Nord-Lock system fits existing nuts and bolts.
Optimization of joint security was made possible by collaboration between Williams and Corus and with Nord-Lock's representative Peter Higgins, Technical Sales Engineer.