Safe transport
Whether you like to ski in France, or further afield in Northern China, Korea, the United States or even Dubai, chances are you won't walk to the top of the slope. You will sit on a ski lift or take a cable car. And chances are high that the cable system you are relying on to get you quickly and safely to your destination has been designed and manufactured by French company Poma.
While you have sat, or stood, on a seat or in a cabin, dangling from a cable with a little – or a lot – of empty space between you and the ground, you've probably wondered whether you were being foolhardy and if this cable-based transportation system was entirely safe. Well, the answer is 'yes'.
There is some dispute as to who exactly created the world's first ski lift as two were built in 1936, one in France, the other in the United States. The one in France was the brainchild of a Polish-born Frenchman, Jean Pomagalski, raised in the French Alpine city of Grenoble, who built his first ski lift in l'Alpe d'Huez.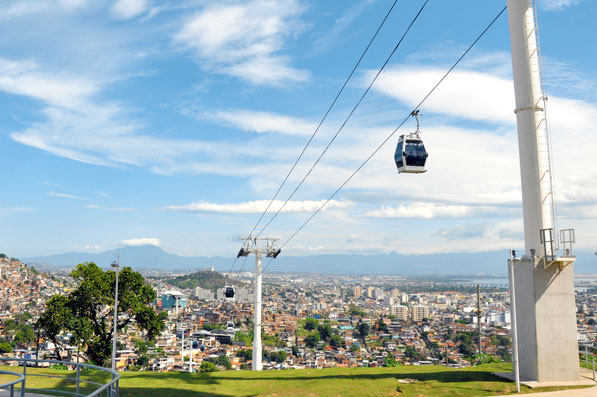 Today, the company he founded, Poma, has changed hands several times, though up to 70% of its activity is still linked to the ski industry. The rest is split between urban transport, tourism, science and industry. Cable cars have proved more than just a transport system in South America: they have brought city slums that were previously no-go areas into the mainstream. Poma built the first cable car system to be seamlessly integrated into a public transport system in Medellin, Colombia. It allowed inhabitants of the poor barrios perched on the hillside, accessible only by steep steps, to cut their commuting time into the city from upwards of two and a half hours to just minutes.
It was such an instant success that the South American city now has six such cable car lines. "People are incredibly respectful of the installations," remarks Edouard Dovillaire, Innovation and Product Deputy Director for Poma. "They are very proud of their cable car or MetroCable® and the measure of its success is that when you get off, there are people sitting in cafés, children playing, a public library; all this in areas which were no-go zones even for the police!"
Officials of Rio de Janeiro in Brazil approached Poma to undertake a similar project for their city and in July 2011 the first cable car public transportation system opened linking the favela of Complexo do Alemão with downtown Rio. The cable car line is 3.5 km long, stops at 6 stations and carries 152 gondolas, each of which can hold 10 passengers. The journey from the first station (Bonsucesso) to the last (Palmeiras) takes 17 minutes, instead of an hour, as it did in pre-cable car times. By May 2012 it had already transported 2 million passengers!
The oldest urban aerial tramway may be found in New York, linking Roosevelt Island to Manhattan in 3 minutes. Originally built as a temporary solution and despite the arrival of the metro on the island, the 'Roosevelt Island Aerial Tramway' remains the most popular form of transport. It too is seamlessly integrated into the public transportation system and was recently subject to a complete renovation by Poma.
Slightly different visually – because it looks like a train, even if it is pulled along by a cable – is Poma's first forray into Africa with MiniMetro® (the automated people mover) between the three terminals at Cairo International Airport. Super-silent, gliding at 13.5 metres/second (compared to 3-5 metres/second for a traditional hanging-type cable car), the system became operational in April 2012 as part of the airport's move towards becoming a more efficient hub.
Because travelling in a cable car is different and exciting, and because growing economies mean more leisure time and thus more tourists, authorities in Asia are often opting for the aerial tramway solution to make their tourist sites even more attractive.
One of the most spectacular is the cable car at Nha Trang in Vietnam which carries tourists across the China Sea to the Vinpearl amusement park. Each gondola can carry eight people a distance of over 3 km suspended 40-60 metres above sea level. Another awe-inspiring cable car trip is the almost vertical 7.5 km ride up to the Tianmenshan temple in Zhangjiajie, China.
But whatever the end use, "what we sell to our clients is safety," stresses Mr. Dovillaire, "because our business is to transport people in places where no other transport system is feasible so safety is absolutely paramount. That's why we've been using Nord-Lock washers on critical bolts since 2002 because they are the only ones on the market to meet the quality and the security we need. We would not want to be caught out by using products of another brand."
FACTS: POMA, VOREPPE, FRANCE
What it does: Designs and manufactures cable-based public transport solutions.
Part of: High Technology Investments, a holding company, whose group provides a comprehensive range of equipment for ski resorts.
Founded: In 1936 by Jean Pomagalski, a French engineer of Polish origin.
Annual sales: Eur 263 million
Number of employees: 850
Bolt securing: Nord-Lock
BUSINESS ARGUMENTS
This is how Poma benefits from Nord-Lock washers:
SAFE – for transporting people high above ground across difficult and/or dangerous terrain.
GUARANTEED – counterfeit washers are considered a risk.
SECURE – they never come loose.
EASY – a bolt may still be unscrewed for necessary maintenance.
ADAPTABLE – can be used on any bolt.