Ecuador's new power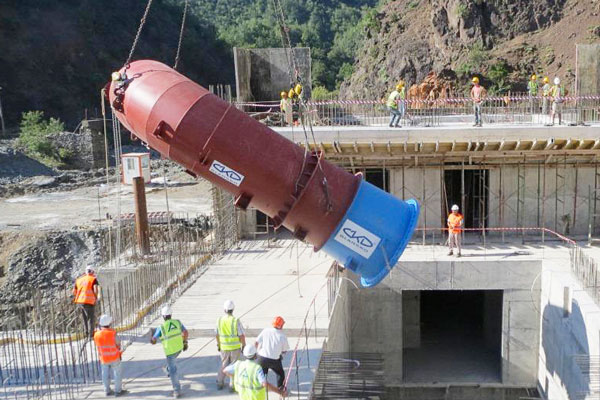 Customer: ČKD Blansko Holding
Built: To be completed in 2015
Project: Toachi-Pilaton hydroelectric project
Capacity: 254.40 MW
Production: 1,090 GWh PER year
Application: Francis turbines, main inlet valves
Ecuador already meets 45 percent of its energy needs with hydroelectric power, but is aiming to increase this to 93 percent by 2016. The Toachi-Pilaton hydroelectric project, which includes the construction of the Sarapullo and Alluriquin power plants on the Toachi and Pilaton rivers, is one step closer towards meeting this goal.
ČKD Blansko Holding, the leading manufacturer of hydro-mechanical equipment in the territory of the former Czechoslovakia, specialises in the production of Francis and Kaplan turbines and closure valves for the power plants. The total power capacity of the company's turbines installed in more than 30 countries is over 19 GW. ČKD ­Blansko Holding's pipeline valves are connected to pipelines by means of bolted flanged connections. Due to the uneven distribution of load to the individual bolts, however, these connections must be very carefully dimensioned and inspected.
"We asked the manufacturer of Superbolt tensioners to provide material certificates and certificates for the applied anti-corrosion protection. We then carried out the FEM calculation in which we verified the uniformity of load distribution. The certificates and the results proved satisfactory," says Josef Plch, ČKD Blansko Holding's valve R&D Designer. "In recent time we have used Superbolt nuts and bolts – types MT, SB and SX – for six pieces of our butterfly valves at the ­Sarapullo and Alluriquin power plants in Equador. I ­really like the idea of Superbolt tensioners; the fact that somebody can come up with a new solution to something that already seemed perfect. The two main advantages of Superbolt tensioners are the simple tightening method and the uniform distribution of load on the individual threads."
ČKD Blansko Holding therefore uses Superbolt tensioners in power plant projects all over the world.