Securing bridges over cooling water
The Port of Rotterdam (Netherlands) receives every year the visit of around 35,000 seagoing vessels and 130,000 inland vessels. This makes the Port of Rotterdam the largest port in Europe and third-largest port in the world.
Several years ago, the intensive increase of shipping traffic created a capacity problem, which made obvious the need to expand the Port.
A building consortium was appointed to build the Maasvlakte 2 subproject of expansion in the sea off the coast of the existing Maasvlakte. The work comprised the construction of sea defences, the first port sites, some 3 km of quay and the roads and railways necessary to provide access to the Maasvlakte 2 area. They were also responsible to build temporary bridges for rail and road traffic at the Yangtzehaven. This bridging of a first water connection between Maasvlakte 2 and the Yangtzehaven was necessary for the discharge of E.ON cooling water during the period when the sea wall would temporary be closed. The construction of the rail bridge required a large-scale interruption to rail services during a certain period of time.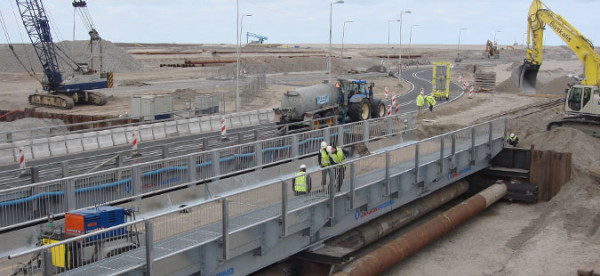 Janson Bridging Group, a company leader in building bridges, pontoons and roro's, built the temporary rail bridges for this project. Bolted joints of the standard steel bridge are fastened with bolts and nuts. Considering the high demands of ProRail (Dutch government organization responsible for the maintenance and extensions of the national railway network infrastructure) regarding an eventual bolt loosening due to continuous vibration, Janson Bridging chose Nord-Lock SC-washers to secure the bolted joints of the bridges. Janson Bridging tightens the longitude and transverse beams of their bridge systems through a bolted joint which is partly used as a preloaded bolted joint. The preloaded bolted joints are tightened with calibrated torque tools.