Is Nylon Insert Nut the Best Bolt Locking Method?
How do Nord-Lock washers compare with nylon insert nuts? This guide lists key parameters to help you make the right choice.
Nylon Insert Nut
Nord-Lock Wedge-Locking
Locking capability
Not reliable. Variable efficiency of the product depending on quality of the nylon insert, on the manufacturer, and on temperature.
Reliable. High and constant quality of the product.
Product range
M3-M48
M3-M130 (standard range)
Temperature
Efficiency decreases as temperature increases. The usual operating range set by ISO 2320 is limited to [-50°C; +120°C].
Same operating range as regular bolts and nuts, locking function not affected by temperature changes.
Assembly/disassembly
Time-consuming operations for installation and dismantling, thereby increases maintenance time.
Swift and easy to assemble/disassemble, even in confined spaces.
Clamp load deviation when tightening
Larger deviation in clamp load due to friction-based locking. Lubrication not recommended.
Possible to predict the clamp load. It can be lubricated, and thereby even further minimize clamp load deviation and torsion stress.
Reusability
Not recommended for reuse.
Reusable. It does not affect reusability of bolts/nuts.
Recyclability
Consists of nylon and steel.
Recyclable. Meets ELV and RoHS directives.
Life cycle cost
Variable – from low to very high – depending on application. Involves high mounting costs due
to time-consuming installation.
Low. Relatively high price per unit. However long life cycle, reusable, improves productivity and minimizes maintenance cost.
Which bolt locking product should I use?
Get your free eBook on the topic of bolt loosening and see how different bolt locking products perform.
What you will find in the eBook: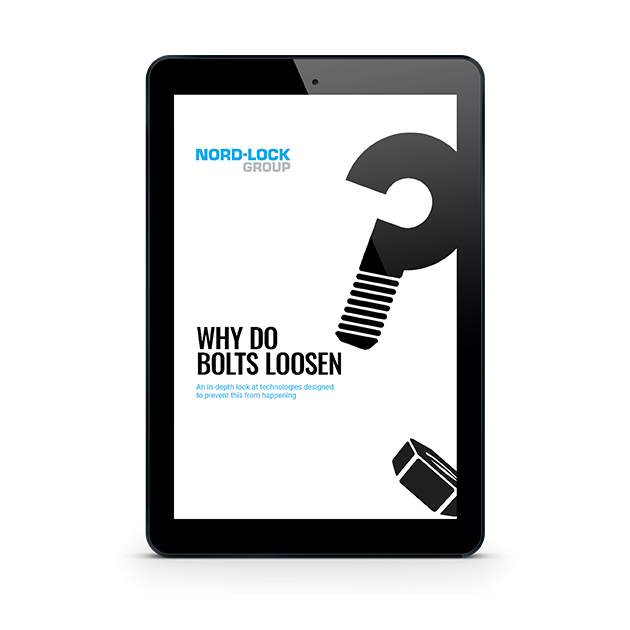 Pros and cons of the different bolt locking methods
Evaluation of different products
A print-friendly Guidance for Selection, to help you decide which product to use in your applications