Is Extension Socket the Best Bolt Locking Method?
Extension sockets or Nord-Lock washers? Let us take you through the key parameters so that you can make the right choice.
| | | |
| --- | --- | --- |
| | Extension Socket | Nord-Lock Wedge-Locking |
| Locking capability | Not reliable. May loosen eventually. | Reliable. High and constant quality of the product. |
| Product range | Not advisable for large bolts, as parts and assembly will be expensive. | M3-M130 (standard range) |
| Clamp length | Good flexibility in joint, since clamp length is always long. This compensates for settlements, but cannot prevent rotation. | Safely secures both long and short clamp lengths, by preventing rotation. |
| Control over clamp load | Due to the risk of loosening, lubrication is not recommended, which results in larger clamp load deviation. | Locking function not affected by lubrication, which provides for good control over clamp load. |
| Reusability | Reusable | Reusable. It does not affect the reusability of bolts/nuts. |
| Used in confined spaces | Limited use in confined spaces, due to extension body and long bolt. Bulky design solutions. | Suitable for and easy to assemble in confined spaces. |
| Life cycle cost | High. Relatively high price per unit. Eventual loosening will lead to increased maintenance costs and downtime. | Low. Relatively high price per unit. However, improved productivity, minimized maintenance costs and reusability will lead to lower life cycle costs. |
Which bolt locking product should I use?
Get your free eBook on the topic of bolt loosening and see how different bolt locking products perform.
What you will find in the eBook: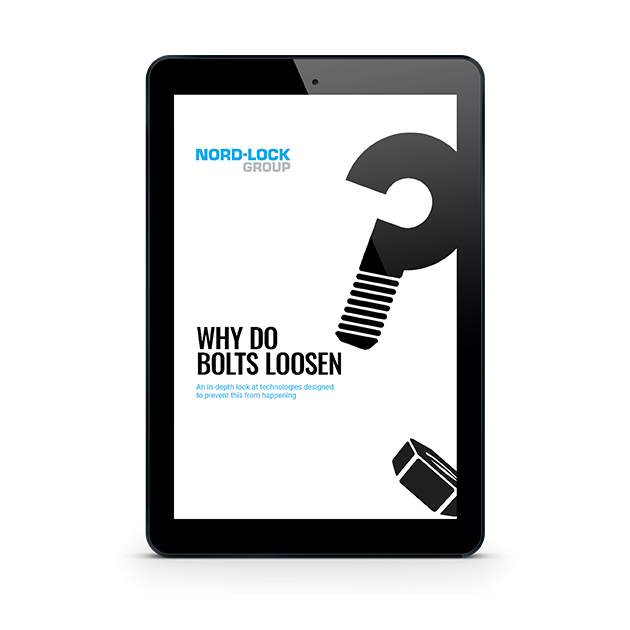 Pros and cons of the different bolt locking methods
Evaluation of different products
A print-friendly Guidance for Selection, to help you decide which product to use in your applications