GETTING SMART WITH SUPERBOLT
Superbolt achieves the desired preload on any critical bolted joint with ease and high accuracy. To further strengthen this ability, Nord-Lock Group has developed a smart preload monitoring technology, taking their proven Superbolt Multi-Jackbolt Tensioners (MJTs) to the next level: the Load-Sensing Tensioner (LST). This will allow customers to easily confirm that their application is tightened correctly.
The Superbolt Multi-Jackbolt Tensioner (MJT) revolutionized how large-sized bolts are tightened. Rather than using special tools to reach the high preload requirements of a large bolt, the MJT breaks the preload into manageable torques using jackbolts threaded through the nut body.
This allows operators to easily install and remove the MJT using simple hand tools.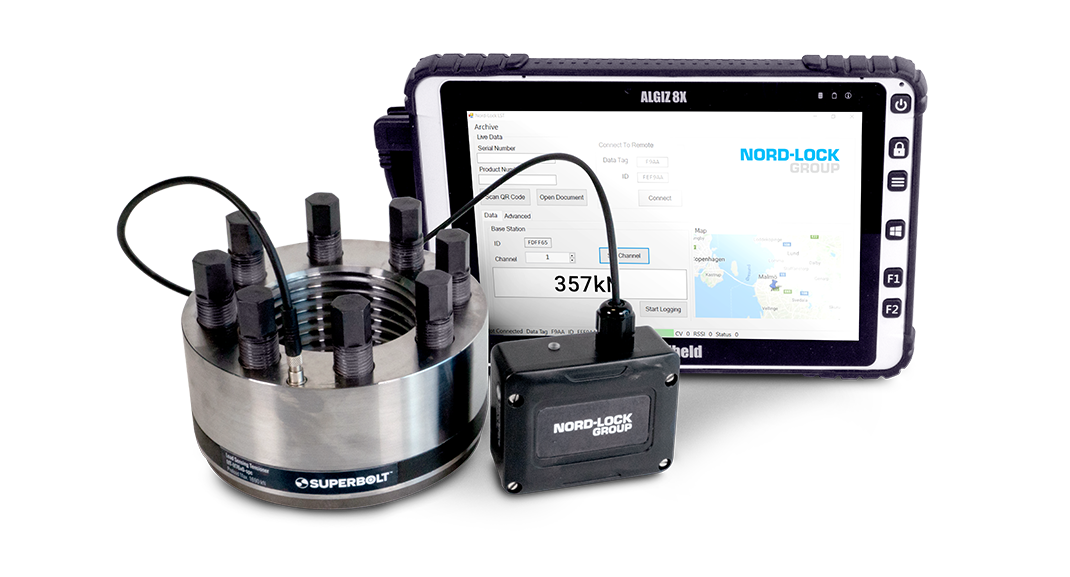 "The Superbolt MJT is a unique product," says Steve Busalacchi, Global Product Manager, Superbolt, Nord-Lock Group. "It has solved many issues within bolting but there are always improvements we can make to help the customer. One of those is having an external indication of the exact preload."
Nord-Lock Group adopted smart technology in order to incorporate this feature into the Superbolt MJT without encumbering the customer with complications. Indeed, different ways already exist to monitor preload, however, these rely on the customer having to retrofit their existing studs or bolts or even buy another system entirely — a process that is costly and time-consuming.
Measuring preload using nut dilation
Nord-Lock Group ran multiple tests at their European technical centers in Lyon, France, and St. Gallenkappel, Switzerland, to find the most practical way to monitor preload. The thought occurred: Is it possible to correlate the inherent flexing action of the MJT to the preload generated into the bolt?
This is known as nut dilation — a process whereby a cylindrical shape expands when it is under pressure. Further tests showed that this relationship was linear, meaning that if the jackbolts are tensioned with double force, the expansion of the nut body will be double — making it easy to measure.
"The measurement is taken from strain gauge sensors placed in strategic locations of the MJT," explains Pierre Kellner, Business Developer, Smart Products and Services at Nord-Lock Group. "You feed the sensors with a voltage and if the material expands, the resistance increases and if it shrinks, the resistance decreases. If you calibrate these measurements you can translate them into kilonewtons and thus measure the preload."
Accessible data anytime, anywhere
The strain gauge sensors on the MJT are connected to a wireless transmitter. This allows the operator to either read out the preload locally on a device, for example during installation, and/or monitor it remotely from the Nord-Lock Group portal.
This is a true Industrial Internet Of Things solution (IIOT). IoT-hub and Stream Analytics from the Microsoft Azure platform is used to collect and analyze the data. Notifications and alerts can be set easily for scenarios that need to be monitored.
This evolution will be very useful for critical applications," explains Busalacchi.
"Let's take critical joints that have gasketed flanges, that's a highly volatile environment and this can cause gasket degradation and loss of preload. Preload monitoring lets you know whether to retighten the bolts or replace the gasket before it fails, saving you complications in the long run."
Ensuring peace of mind with each installation
The reliability of the LST provides customers with the knowledge that their Superbolt MJT has achieved the correct preload. This provides peace of mind and rightly so. Although Superbolt provides customers with highly accurate torque values that correlate with the desired preload of their MJT, operator mistakes do occur.
In this way, being able to monitor preload during installation provides the service team with the knowledge that they have done their job correctly and the application owner with the assurance that their piece of equipment will function as expected.
The Superbolt LST is an exciting step into the world of smart products for Nord-Lock Group, allowing the company to upgrade already successful products to provide even more practical and innovative solutions for its customers. With more projects under development, the future of bolting is sure to be smarter than ever.
What are smart products?
Smart products incorporate a digital element in order to collect data and transfer it to an online database such as the cloud. This data can include location tracking, condition monitoring or fault diagnosis. Smart products are part of the Internet of Things (IoT); the online connectivity of everyday products that can be tracked and controlled remotely.
Like this article and want more?
Get engineering and bolting insights delivered straight to your inbox. Subscribe to our insights newsletter now!