Making it Circular: Mining Machines and Manganese Steel
Sandvik Rock Processing Solutions delivers sustainable products to the mining industry. Their team in Svedala, Sweden, produces premium cone crushers with circularity designed into the steel wear parts. By using more than 90% recycled raw material, it has become one of the most sustainable manganese foundries in the world. We spoke to Anders Åkesson and Jörgen Petersson, winners of the Sandvik Sustainability Award, to find out how.
Cone crushers for processing rocks are built around a chamber consisting of one inner and outer mantle, the inner mantle moves sideways, and the stones fall in-between to be crushed. In mining, they're used to extract minerals from ores. In construction, they process rocks for asphalt to make roads, for example.
Although most crusher manufacturers use some percentage of recycled scrap metal, Sandvik has achieved a remarkable 92% circularity through an ambitious buy-back program, equipment investments and remelting old parts to put recycled metal into their new crushers.
"Ferromanganese steel has quite a high CO2 footprint, so by implementing a buy-back scheme you're reducing the need for that virgin material and having a huge impact on greenhouse gas emissions. We're saving around 16,000 tons of CO2 each year through the buy backs," says Anders.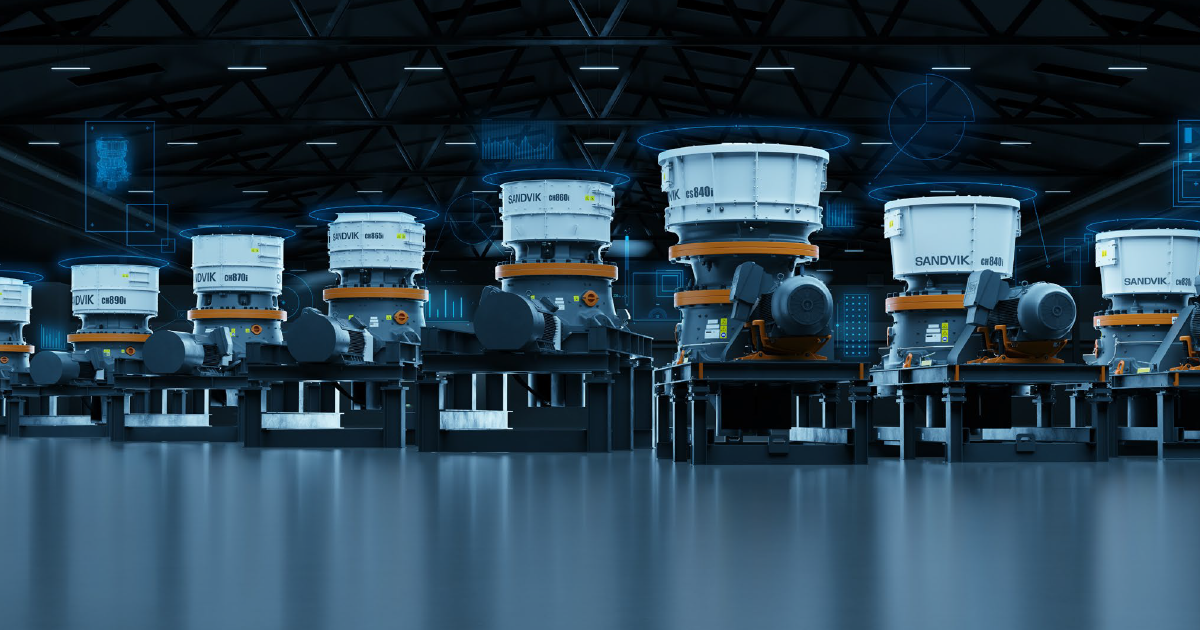 Crushers are large, heavy equipment – how does the buy-back work in practice?
For geographically close customers, Sandvik operates an exchange program and it's possible to use cargo trains to transport the metal equipment and pieces. Proximity and volume are the key factors, so this is feasible because Sandvik has a large European market where the main foundries are based.
The customer is incentivized to join the buy-back scheme for wear parts, saving up to 40% on these 'reborn' solutions. "It's a bit like the refund system used for recycling aluminum cans in supermarkets, only scaled up. In mines and quarries, the worn parts may have been left lying around previously, so it makes sense for the customer to save some money by recycling their scrap with us," Jörgen explains.
Where long distances are involved, where you would generate an overly large carbon footprint if you tried to retrieve the parts, Sandvik instead works closely with scrap dealers that specialize in their grades of manganese steel. Scrap prices can be high, so it's both economically and environmentally preferential to retrieve worn parts directly and remelt the steel to cast new models.
Generally speaking, customers might question the reliability of recycled products. In particular, steel mixes must be 100% accurate, so how do you guarantee quality?
Anders' team invested in the equipment to regulate batch mixes. Tools like portable spectrometers are used to identify steel grades and classify the foundry's four main alloy compositions in the scrapyard, so they can be sure of the quality of input materials. The benefit of a well-established recycling program is that scrap will often be well sorted and accurately classified already, so Jörgen's team rarely needs to correct the alloys.
Steel scrap is then remelted in the furnace, with samples returned through the spectrometer to check the carbon percentage and alloy composition. The new mix can then be added to specific product recipes, with a level of control that ensures new melts are of a consistently high quality.
Where is the biggest challenge: Designing a circular economy, implementing the infrastructure, or getting customers on board?
In the past, Anders worked hard to build the business case with customers, but now he experiences a more organic interest from their side as customers actively seek more sustainable solutions. "The big mining houses are looking for ways to reduce their footprint and achieve their own sustainability agendas," he says.
In terms of implementing circularity, the team started with a 'cradle-to-grave' analysis of their products. You use a detailed inspection of your supply chain, operations and logistics to define how circularity will be measured and to set the roadmap for bringing products back, closing the loop.
This life-cycle assessment takes time, but it also formed the basis of Sandvik's Environmental Product Declaration (EPD). This document tracks a product's environmental impact in terms of emissions, energy consumption, and similar criteria. The outcome is a document verifying the sustainability of Sandvik's manganese crusher wear parts in comparison to alternative suppliers.
An EPD provides a competitive advantage. "Maybe we are not the cheapest on the market, but we're proving our low footprint," points out Anders. "It's something that customers are starting to see as a deal-breaker and vouches for the industry taking responsibility for sustainability going forward," he continues.
The long road to circularity
Shifting the manufacturing processes and business models of a global company naturally takes time. Given the complexity, the further you go, gains also become more marginal and expensive. Anders' team achieved high circularity (80%) some years ago, but in the past five or six years were able to realize a level of 92%.
Referring to the EPD, it takes years to complete but the insights gained from a deep life-cycle assessment give much greater control over improving your processes from a CO2 perspective. For Anders, the analysis specifically identified the worst offending steel alloys in terms of emissions, "from there you can kick off a project to replace those elements with a more sustainable recipe," he explains.
Despite comfortably exceeding Sandvik's group target of 90% circularity by 2030, one aim is to share knowledge and cooperate with sub-suppliers. Anders thinks it could be possible to extend the buy-back scheme into territories that have a large installed base of Sandvik crushers, along with effective cooperation between those customers and local steel foundries.
"It's easier when you own your foundry, but now we also have to focus on our international sub-suppliers to engage them with increasing their own circularity."
Award winning sustainability
Despite strong competition from other divisions, the circularity work with crusher wear parts won Sandvik's internal 'Sustainability Award in Memory of Sigrid Göransson.' Sigrid, born in 1872, was the granddaughter of Sandvik's founder and made the company focus on social responsibility and improved worker conditions at a time when that was rare. The award recognizes the measurable and lasting economic and environmental impact of Anders and Jörgen's mission.
The two colleagues refer to strong on-site R&D, and a company culture that promotes progress and relentless teamwork, for making these impressive innovations possible. "We're proud to personally accept the award, but it took several years and a team effort to reach this point. Sustainability has become part of our daily practice," says Jörgen.
Anders concludes, "As the largest steel foundry in Sweden, our work resonates with the industry – so the journey doesn't stop here. We will continue our lifecycle focus on spare parts, reduction of waste and strive for Sandvik's 'Shift to Sustainability' targets. I'm very positive that we're going to achieve much more".