Electrification in Mining - Sparks of a Low-Carbon Future
The need for renewable energy is seemingly mutually exclusive to increasing demand for mineral extraction. Mining is crucial to build green technologies including solar panels, wind turbines and lithium-ion batteries, but the industry itself must decarbonize to meet global sustainability targets.
As you read this, the world's population is racing towards the 8 billion mark, described as the estimated sustainable population on our planet. Predictions put the number at 9-10 billion by 2050. To satisfy the growing demands of this, we will need to significantly ramp up production of almost everything you can think of.
This places the mining industry firmly in the spotlight. Because, as it is sometimes put: if it's not grown, it ultimately comes from mining. So, for example, when the growing global middle class drives an accelerating demand for products such as mobile phones and cars, it consequently drives a massive demand for metals and minerals.
This demand is multiplied by sustainability and circularity trends, and the so-called clean energy transition aiming at a net-zero emissions future. Today, energy consumption and production account for two-thirds of global greenhouse emissions, and 81 percent of the worldwide energy mix remains based on fossil fuels. So if we are to meet the Paris Agreement targets, such as limiting the global average temperature increase, things will have to change.
Exploding demand for clean energy
It will be challenging to meet the future demand for clean and renewable energy. The World Bank Group estimates that the production of graphite, lithium, cobalt and other minerals may increase by an extraordinary 500 percent by 2050.
These minerals are needed to manufacture equipment such as solar panels and wind turbines, but also lithium-ion batteries which are essential for the clean energy transition, powering electric vehicles for example.
While recycling and re-use can go some way in meeting the demands, we need to ramp up the mining of the required minerals and metals significantly. And here is the thing: the mining industry doesn't exactly have an environment-friendly track record. So, the seemingly inevitable future convergence of clean energy and mining might seem like an odd pairing.
Minimizing climate and material footprints
However, things are changing in the mining industry. Along with safety and productivity, sustainability and social responsibility are critical drivers for change. With growing environmental and climate change awareness, the pressure from governments, investors, the public, and other stakeholders increases.
Many initiatives support positive development, such as the World Bank's Climate-Smart Mining (CSM) Initiative. It champions "the responsible extraction, processing and recycling of minerals needed for low-carbon technologies by minimizing their climate and material footprints, from extraction to end-use, by scaling up technical assistance and investments in mineral-rich developing countries."
CSM has devised twelve climate-smart building blocks, divided into four groups: climate mitigation, reducing material impacts, climate adaptation, creating market opportunities.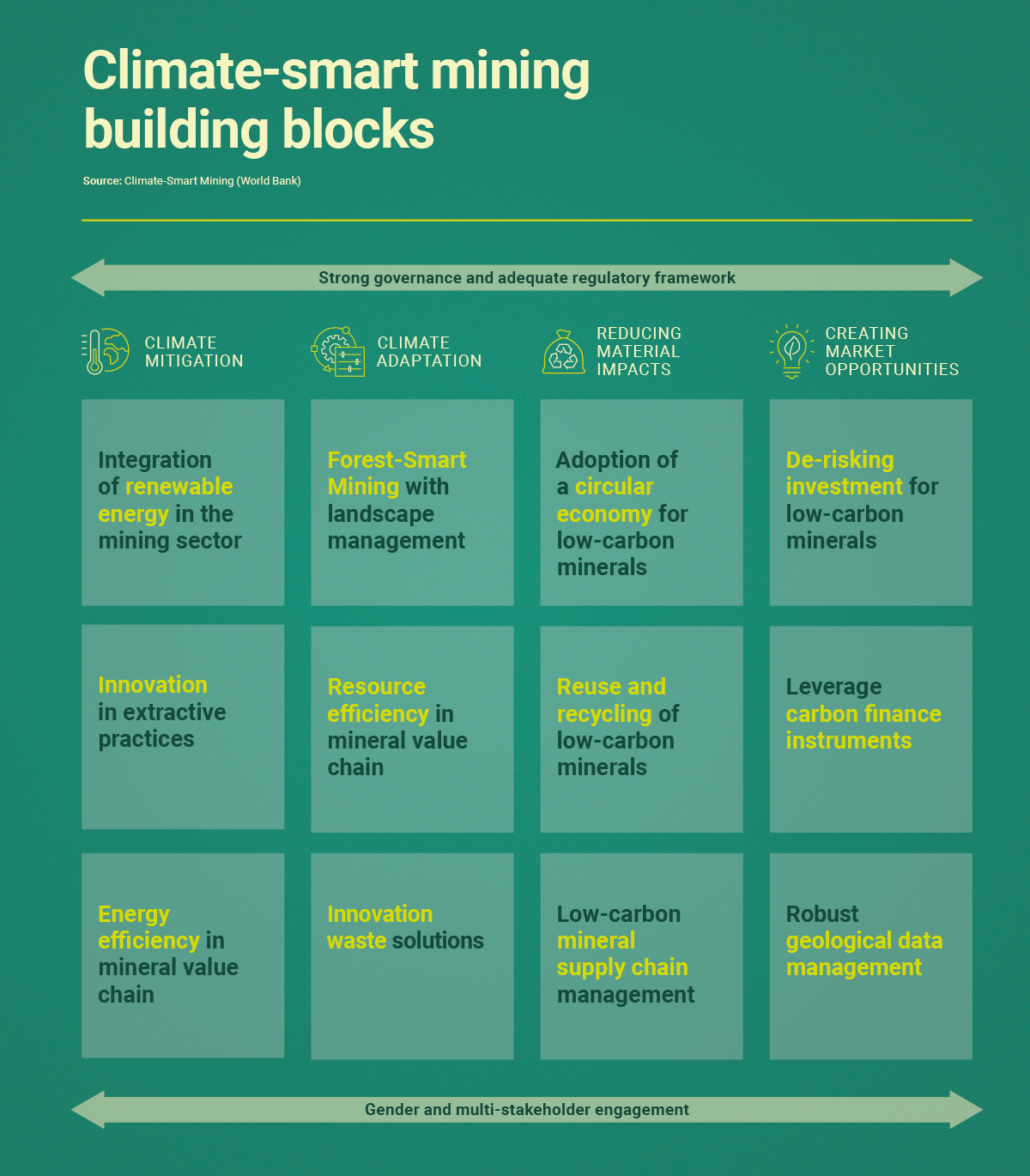 They complement several of the United Nation's sustainable development goals (SDGs). Especially SDG 7, "access to affordable, reliable, sustainable and modern energy for all," and SDG 13, taking "urgent action to combat climate change and its impacts."
Covering the entire supply chain
However, in an interview with mining-technology.com, Riccardo Puliti, Global Director, Energy and Extractive Industries, World Bank, says an across-the-board global shift to clean extraction techniques will be difficult. There are simply too many variables.
Still, he says, "There is a need to look at the whole mineral supply chain to minimize the impacts and promote best practices. While innovation is happening, it is often concentrated in isolated corners of the world."
"We need a much faster and wider spread of knowledge about best available technologies in this space, and widespread adoption of these by the mining industry globally."
Aiming to reduce their carbon footprint and become more sustainable, an increasing number of mining companies are acting, both regarding their operations and throughout their value chain. Initiatives such as turning to low-carbon renewable energy and using innovation to improve efficiency and productivity in the extraction are essential, but so are, for example, water and forest-smart mining, innovative waste solutions, and adoption of a more circular business model.
Expected to make a positive contribution
Australian BHP Group Limited was one of the pioneers in this area, setting emission targets as far back as 1996. BHP's Climate Transition Action Plan 2021 outlines their "strategic approach to reduce greenhouse gas (GHG) emissions to net-zero within our operations by 2050 and to work with customers and suppliers to support their own emissions reductions, consistent with the ambition of pursuing net-zero in our value chain."
Other industry giants, such as Anglo American and Rio Tinto, also have comprehensive sustainability plans. The former writes,"Our industry must address critical challenges of safety, productivity, and the way we use land, energy, and water."
"Modern society rightly expects the mining industry to make a positive contribution to socio-economic development in a sustainable way by reducing its environmental footprint and supporting biodiversity."
That's all good, you might say, but how is the daily operation changing?
The electrification of mining
Riccardo Puliti mentioned the spreading and adoption of the best available technologies. More environment-friendly equipment is a way to change, and many mining companies are turning to electric instead of diesel vehicles. There are many benefits.
In fact, electrification has been described as one of the decisive technology shifts in mining, together with automation and digitization.
The reduced carbon emissions benefit the environment. But electrification can also significantly lower operating costs when the need for elaborate ventilation systems in underground mining is reduced. Especially as underground mines continually need to dig deeper to reach new deposits.
Operator health and well-being also improve considerably when the working environment is devoid of diesel exhaust fumes. And generally, battery electric vehicles (BEVs) are smaller sized for the same loading capacity.
Working together for change
As autonomous and battery electric vehicles increasingly become the norm — linking back to the clean energy transition — equipment manufacturers rely on innovation and partnerships to meet their own and their customers' needs.
Partnerships and collaborations seem likely to increase in number. For example, Caterpillar announced in August 2021 that they would work with BHP to develop zero-emission battery-powered large mining trucks.
Caterpillar writes that, "BHP will have early access to the Caterpillar-developed zero-emissions equipment and will provide input to the developing and testing processes. The resulting collaboration will shape the processes, technology and infrastructure that will ultimately support zero-emissions machines and mine sites of the future."
A future benefitting everyone
So, while the development and adaption of climate-smart mining are beginning to gain momentum, there is still a long way to go. But, hopefully, the various industry initiatives and those of individual companies will keep the ball rolling.
Because, as the demand for minerals and metals continues to grow — to a great extent driven by the needs of the clean energy transition — the mining industry must resolve the sustainable road forward.
In his foreword to the 2020 CSM report Minerals for Climate Action, Riccardo Puliti concludes that, "by working together to reduce the carbon and material footprints of minerals, we can support the large-scale deployment of renewable energy and battery storage technologies required to meet ambitious climate targets and achieve a low-carbon future that benefits everyone."