Life in the engineering fast lane
Attracting young talent to the manufacturing industry is getting increasingly challenging. Some state that a lack of future engineers is a serious threat to individual companies and the industry as a whole. So what can companies and academia do to attract young talent?
One way is adding excitement to the mix. Several universities are, quite literally, trying to accelerate student interest through extracurricular motorsports projects. Two American projects – Gator Motorsports at the University of Florida, Gainesville, and the Virginia Tech Baja SAE Team in Blacksburg – along with Dutch Forze Hydrogen Racing at Delft University of Technology are sponsored by the Nord-Lock Group.
These projects cover all steps, from design and development to assembly and racing the vehicles. Gator Motorsports highlights how students acquire technical skills while practicing teamwork and project management, which is beneficial for their transition into careers in the industry later on.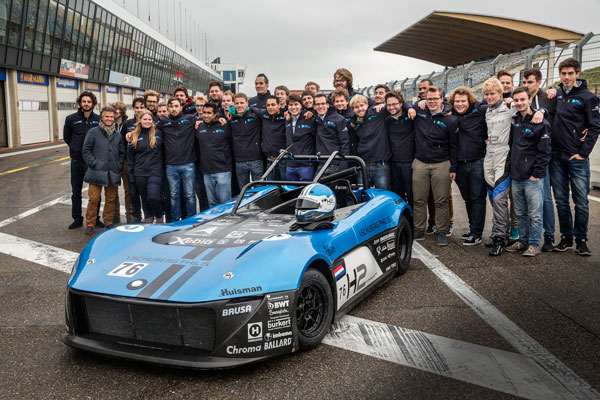 Gator Motorsports takes part in the yearly Formula Society of Automotive Engineers (FSAE) design competition in Michigan, USA. Here, they compete against more than 100 teams from all over the world with their high-performance Formula-style race car.
Combining motorsport with sustainable technology, Forze Delft focuses on race cars powered by hydrogen fuel cells. Their latest model, the Forze VI, is one of the first fuel cell system race cars globally, and the first and fastest hydrogen-powered race car ever measured on the Nürburgring Nordschleife in Germany. Recently, it broke the electric-lap record on Circuit Park Zandvoort in The Netherlands.
True to its "Fun, fast, dirty" slogan, the Virginia Tech Baja SAE Team has chosen to go off-road. Its single-seat vehicle competes each year in an international competition arranged by the Society of Automotive Engineers (SAE).
These student projects rely heavily on sponsors, but it is not all about getting free parts. "Networking with industry sponsors exposes us to engineering after college," says Jess Barton of the VT Baja SAE Team. "We have the opportunity to learn from the companies, including how they operate and what they design and manufacture. Real-world skills and advice from sponsor companies make us great engineers and professionals."
3 questions
Johanna Persson, Sales and Marketing Director, Nord-Lock Group
1. What kind of student projects does the Nord-Lock Group sponsor?
"The projects that we select should resonate and align with our business and brand strategy. We wish to connect with future engineers, designers and innovators that will play an important part in developing solutions for both current and future challenges within our world."
2. What are the long-term gains for the students?
"We want to help them to develop their creativity. We support thoughtful, innovative projects and programs that build the capacity of students to succeed in a constantly evolving world."
3. How do I get my student project sponsored?
"All student organisations are welcome to submit an inquiry through our website if they see a use for our products. We can't support activities asking for a cash contribution, but we will support projects with knowledge and market-leading products."