Elena Moral
Elena Moral has spent almost two decades as an engineer within the railway industry at Talgo, a Spanish manufacturer of high-speed trains. During that time, she won the 2019 Women in Construction and Engineering (WICE) prize for European Railway Engineer for her role leading the construction of the ambitious Medina-Mecca railway project.
How has your role evolved since you first joined Talgo?
I have spent my entire professional career of almost two decades with Talgo, so I have worked with many different departments of the company. I coordinate all the various functional areas such as engineering, sales and manufacturing. It is essential to distribute the necessary resources through our many projects, which allows us to meet the objectives of all our efforts worldwide. My deep technical experience gives me a vantage point from which to have a close collaboration with each team to resolve any problems. They're long projects, spanning multiple years and, given the size of Talgo, it means that directing the projects has to be very hands-on. Everyone feels personally involved, and when speaking to my colleagues, I frequently refer to them as "my trains". We have the privilege of working in an industry that contributes to improving the wellbeing of people, which makes the work very rewarding.
Why do you think you were awarded the WICE prize for European Railway Engineer?
To a large extent receiving the prize was thanks to the Medina-Mecca project. It's one of the most complicated railway projects ever undertaken: the construction of the first high-speed rail line operating in desertlike conditions. Over 1,000 people worked on this incredibly ambitious project, so it's important to underline that any prize is the product of collaboration. I don't consider myself the sole winner. The team that I led developed solutions in-house as well as through collaboration with other industries so that we could operate at temperatures of over 50 degrees Celsius, with powder that penetrated the finest cracks, and sand that when traveling at speeds of above 300 km/h becomes an extremely efficient abrasive – quite literally sandpaper. The line now has 1.3 million cumulative operating kilometers since last year, and the positive results make us very proud of our work.'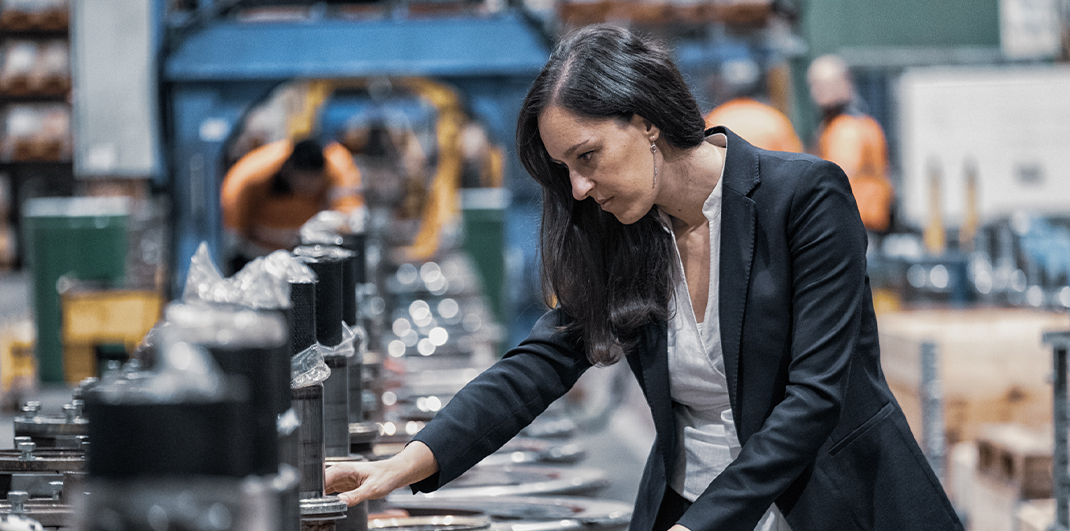 What did embarking on such an ambitious project teach you?
Developing a train so that it can travel at high speed through a desert is a fascinating engineering puzzle, which can throw up lessons which we can apply to many other contexts. Hermetically sealing the train to stop dust particles from entering could find applications in sub-zero temperatures to stop snow or other elements. Developing paint which doesn't chip when traveling through sand can teach us sustainable alternatives to what we currently use. At Talgo, we take pride in the wealth of our experience collaborating with clients to pioneer high-speed railway solutions tailor-made for their specific needs.
Why do you think prizes like WICE are necessary?
WICE seeks to give visibility to the contributions of women in different sectors of engineering, to make these roles more attractive and help address the gender imbalance in our industry. In many countries, less than 20 percent of engineering professionals are women. Having role models that young girls can see and want to emulate can make them more likely to pick similar careers in the industry. Ultimately, the numbers speak for themselves. Women make up half of our society and therefore make up half of the potential talent pool for the industry. Forward-looking companies can't afford to ignore this when thinking about their future. In an ideal world, hopefully in the near future, these types of prizes will disappear, and such a gender distinction will no longer be necessary.
Name:
Elena Moral
Title:
Project Execution Director, Talgo
Professional Background:
Project lead for Talgo highspeed railway projects: engineering, design, manufacturing and testing. Talgo is one of the world's leading passenger train manufacturers, specialized in the design, manufacturing and maintenance of regional, intercity and high-speed trains.
Like this article and want more?
Get engineering and bolting insights delivered straight to your inbox. Subscribe to our insights newsletter now!
Subscribe to our free magazine
Stay up-to-date with the latest news, insights and knowledge in the bolting industry by subscribing to Bolted magazine!
Subscribe Bolted magazine