Superbolt's Culture of Innovation and All Eyes On Smart Bolting
Getting Superbolt into space was a big deal, but it's suitability to secure critical bolted joints hasn't always been applied in such awe-inspiring fields. The journey is still unfolding, from an industrial fix in the beating heart of US manufacturing to a global brand that is synonymous with industrial multi-jackbolt tensioning, and now a leader at the forefront of predictive maintenance and digital bolting.
The origins of multi-jackbolt tensioning
In 1974, the mills of US Steel in Pittsburgh were tormented by machine breakdowns and maintenance downtime. Large conventional nuts and bolts were frequently loosening due to vibrations and rotations in the equipment, and the operators often required sledgehammers to do the retightening because of high torques needed on bolt diameters larger than M24.
Owing to the sometimes-spontaneous nature of innovation, it was a routine workday when Rolf Steinbock imagined breaking up the high torque requirements of these problematic nuts into several, smaller torques with multiple jackbolts threaded through the nut body.
In doing so, Steinbock invented the original Superbolt multi-jackbolt tensioner (MJT), an innovation that made it possible to tighten large bolts with a simple torque wrench instead of the sledgehammer. This technology made more accurate preload possible, plus the new MJT maintained clamp load, meaning a revolution for the productivity of heavy industry machines by eliminating bolt loosening.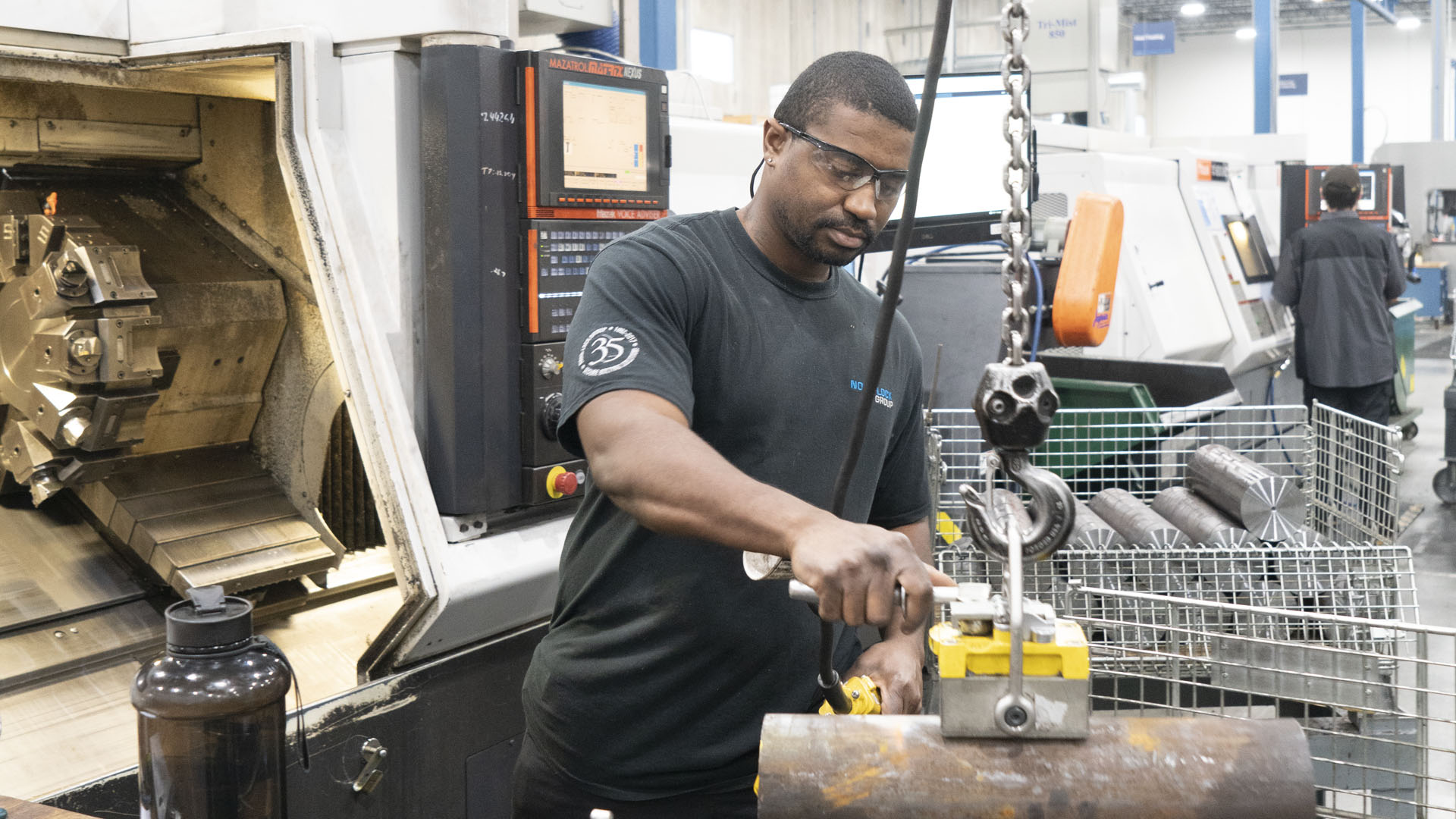 Now proven in tens of thousands of successful applications worldwide, operators choose Superbolt to solve the toughest bolting challenges in everything from production plants to major construction, mining, and groundbreaking power-generation projects. Thanks to fast and flexible production, in-house engineering expertise and technical centres around the globe, solutions can be tailor-made specifically for the customer.
Easy to choose. Easy to use. An evolution of the multi-jackbolt tensioner
Put simply, a Superbolt MJT makes the application of large bolts easier and maintenance less demanding. So, speed and accuracy are the guiding principles for further innovation.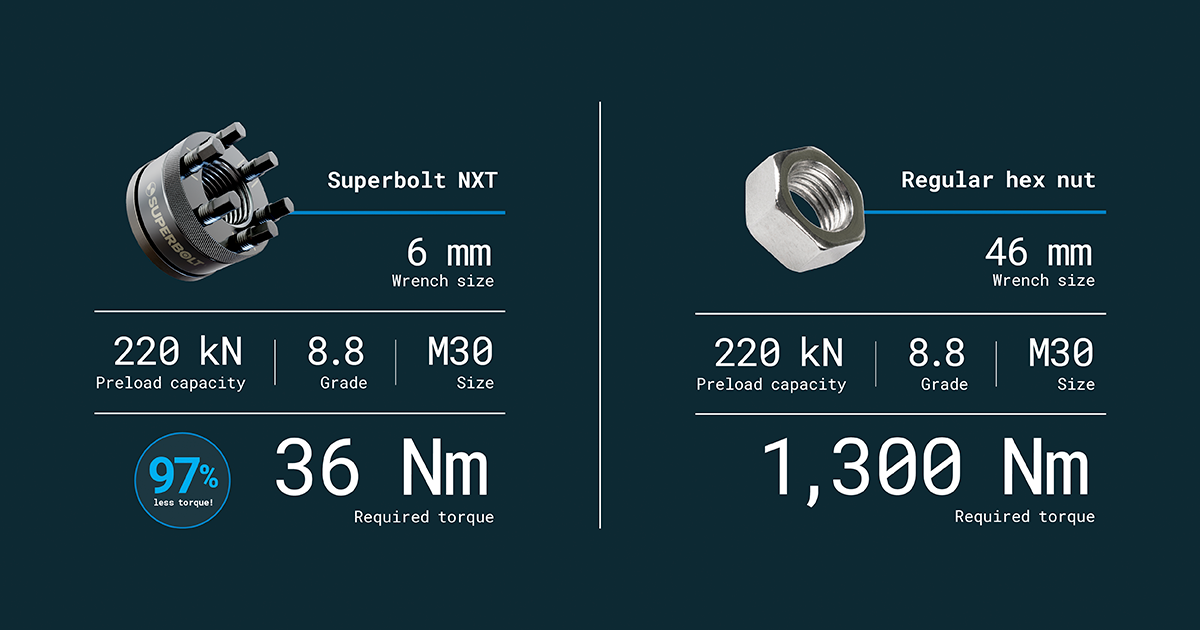 In 2019 the Superbolt Tool, which won the prestigious Red Dot Design Award for Nord-Lock Group, was introduced. A compact drive mechanism makes it possible to tighten multiple jackbolts simultaneously to the correct load, as used by EDF Energy.
Now it's Superbolt NXT, a brand new multi-jackbolt tensioner that is taking those fundamental values of speed and accuracy to the next level.
"It started with a strategic initiative to improve the customer experience when using a Superbolt multi-jackbolt tensioner," says Sébastien Bruyas, Strategic Sales Manager EMEA at Nord-Lock Group.
The key improvement has been reducing the number of jackbolts required to tighten bolted joints, as a small decrease in jackbolts can deliver a significant reduction in both installation and removal times. To achieve this, design engineers had to rethink this critical component.
"We worked with steel mills and heat treatment partners to get the right materials and processes to increase the strength of our jackbolts. Now, we can offer the customer an equivalent preload with fewer jackbolts, so it's faster and easier to install with less torque" says Max Bastiaansen, R&D Project Coordinator for Nord-Lock Group.
Superbolt NXT also features a black oxidised coating for corrosion protection, laser-markings to guide installation and an anti-slip knurling grip layer. It is instantly recognizable in comparison to the grey tensioners available on the market until today.
"Take two products side-by-side, and you will see a visible difference between Superbolt NXT and a conventional multi-jackbolt tensioner — it might have two, four or six fewer jackbolts. To design something that just looks good, it's a bit limited, but we've added features that bring a great benefit to the user. Superbolt NXT is easy to recognise, but it's even easier to use," adds Bruyas.
"I've said many times, there are only so many ways to configure a Superbolt nut body in terms of size, number of jackbolts and a washer. But this new MJT completely breaks down that barrier" - Steve Busalacchi, Global Product Manager at Nord-Lock Group.
A growing range of load-sensing, internet-connected bolts
Besides mechanical tensioners, the Superbolt Load-Sensing Tensioner (LST) has been on the market since 2019, and in the previous issue of Bolted we covered how Nord-Lock Group and Revotec collaborate to provide digital preload monitoring and cutting-edge structural maintenance, using LST on railway noise barriers in Austria.
This year, the Superbolt Load-Sensing Flexnut (LSF) has been added to the range of smart bolts. LSF is a counter nut on the reactive side of a bolted connection and can be used opposite any type of tightening method (tensioning, torquing, heating etc.) for maximum flexibility.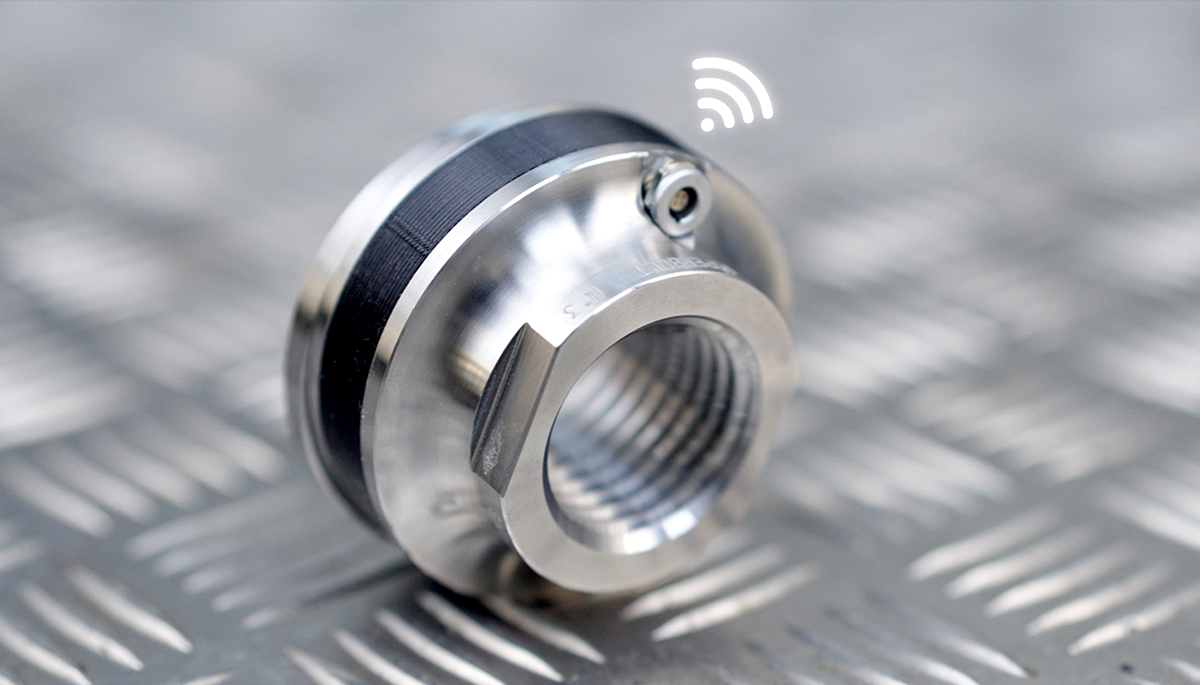 "For me, the biggest advantage with LSF is the versatility. It doesn't matter which tightening method you use, it is still able to measure preload" - Amaris Neidich, General Manager Latin America at Nord-Lock Group.
The LSF's built-in sensors automatically measure and communicate preload values, allowing for seamless remote monitoring during installation and throughout the lifetime of the application. Users don't even need to be on-site with the operators to see the live data on screen in real time, plus they can set automatic warnings when preload falls outside of a predefined range (indicating a loose bolt, for example).
The ability to continuously measure preload with an accuracy that is better than ±5% adds confidence to the installation process, but the ongoing monitoring adds priceless value to optimizing the use of assets and maintaining uptime.
"We're only scratching the surface in terms of the potential for connected bolts. In offshore wind, for example, we receive many requests from customers who want to use our load-sensing technologies to better predict maintenance schedules; they see a great possibility for cost savings" -Pierre Kellner, Business Developer, Smart Products and Services at Nord-Lock Group.
So, from a humble fix in the steel industry to a de facto name in industrial tensioning, Superbolt is driven by a customer demand for flexible, fast and accurate bolt installation and maintenance. Today it is used from subsea to space, securing bridges, monitoring railway structures and much more.
Tomorrow, it will be used to remodel maintenance planning in hard-to-reach places, such as offshore wind and mining. And in the future, Superbolt is sure to continue innovating – perhaps even with bolts that are able to re-tighten themselves as needed. Rest assured that this culture of innovation and proximity to customers will continue to be a driving force for better bolted joint security, wherever it's needed next.