Knowledge Prevents Bolt Failure
When Bill Eccles was a design engineer, he noted that people generally agreed on many different things. "However, as far as nuts and bolts were concerned, everyone had different information." So he paid closer attention to this sector, even earning himself a Ph.D. on why nuts come loose. Today, his expertise is called upon by companies and regulatory authorities worldwide.
Regulatory authorities?
"Yes, I often act as an expert witness. For example, in 2011, I testified during the inquest into the Grayrigg accident when missing bolts contributed to the February 2007 derailment of a train in northern England in which one person was killed."
What kinds of companies do you work with?
"Oh, all sorts! I didn't realize when I was younger that the industries which rely on nuts and bolts range from electric tooth-brush manufacturers to those of oil and gas pipelines, for example."
Can't in-house engineers handle bolting problems?
"Not always. They graduate from university, often with no theoretical knowledge on analyzing bolted joints. Many joint failure problems are due to the joint not being designed correctly. There is a significant lack of knowledge out there. If you design the joint properly from the outset and the fasteners are tightened correctly, you don't need something to stop it from coming loose."
What sort of problems do you solve?
"Very specific ones related to bolted joint failure such as nuts coming undone, bolt fatigue problems, thread stripping issues etc. I have also covered tightening problems both with fastener tool companies and end-users working on such issues as what the appropriate tightening torque should be and what tightening methods and procedures to use to reduce bolt preload scatter."
What do you think your added-value is?
"It is providing expertise in solving problems with state-of-the-art knowledge and, not only solving the problem but solving it economically. I keep myself up-to-date by reading research papers published on the subject together with working with a local university."
Are there many?
"Quite a lot of work has been done since the 1960s but unfortunately research is not getting broadcast. For example, the fact that helical spring washers do not work was first shown in a 1969 research paper and has subsequently been proved by other studies. However, they are still being used and failures are occurring as a result, some of which are catastrophic in nature."
Do you also provide training?
"Yes, I typically train the design engineers, not the people actually tightening the bolt. I basically show them how to prevent bolted joints failing and how to optimize the fastener size, i.e. to decide what size and strength of bolt should be used, and what the tightening torque should be so that the structural integrity of the joint can be assured. I work in North America, Europe, and the Far East and for companies ranging from defense companies, lots of nuts and bolts on armored vehicles and warships, to car and machinery manufacturers and so on."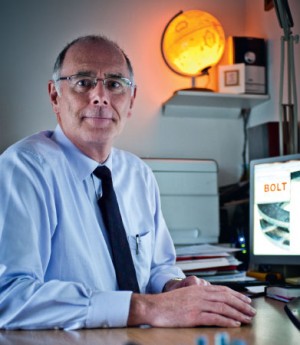 Has the economic downturn influenced your business?
"No. There was a significant drop-off when the crisis first hit in 2008 but things picked up and I'm now as busy as ever. Perhaps many engineering firms have escaped the worst?"
Facts: Bill Eccles
Age: 58
Role: Amongst other qualifications, Bill has a Ph.D. on aspects of why nuts and bolts self-loosen. After working as a design engineer and engineering manager for a number of companies, Bill founded his consultancy company Bolt Science in 1992 and now travels the world giving advice on various aspects of bolted joints.