In the fast lane to greener motoring
If the job you want to do doesn't exist, then invent it. That's what Gordon Foat did to combine his two passions: motor cars and safeguarding the environment.
Aren't these two passions contradictory?
"Not at all! A love of motor cars runs in my veins. My father was a car restoration expert but I wanted a cleaner, greener way ahead for automobiles. So that's what my business works at."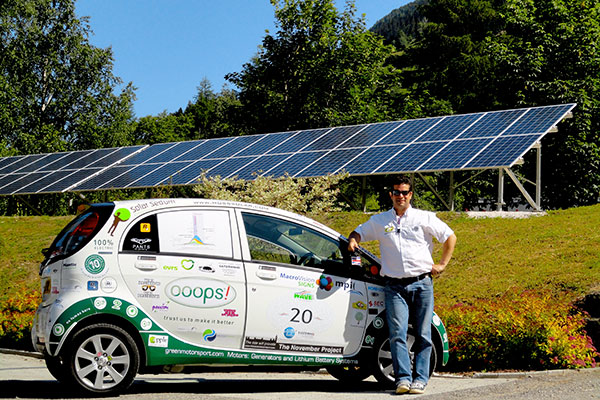 Do you build whole cars?
"No, we make liquid cooled electric motors and supply lithium-ion-phosphate technology batteries to car builders. However, we have developed a brand new electric motor, which we're currently testing on the first car, which is being prepared for WAVE 2014. I'll be using Nord-Lock washers on it for the same reason that I used lock washers from Nord-Lock on my WAVE 2013 rally car: to secure the motor to the car and make it tamperproof and also to lock the engine into place against vibrations."
WAVE?
"World Advanced Vehicle Expedition! I've been involved with these expeditions since the first one was held in 2011. The 2013 rally was across the Austrian Alps."
How did you discover lock washers from Nord-Lock?
"On the Internet. I thought they seemed to be exactly what I was looking for so I just phoned up. Nord-Lock was very responsive. I think they realised that I knew a lot of people in the sector and I was more than pleased to spread the word about the Nord-Lock wedge-locking technology."
How did you do that?
"Nord-Lock supplied me with over 200 samples, which I brought out at the very first meeting of the 2013 rally to give to my co-competitors and tell them how I was using them on my car. And halfway around the rally one car experienced a technical problem which we sorted out with a Nord-Lock washer."
How did you "fill up" with electricity during the rally?
"The support team drove ahead and installed the electric infrastructure so we always had a place to plug in. But if you're driving on your own without this type of support you know every petrol station has at least one ordinary plug. I have never, ever driven more than 30 minutes without finding a plug and I have driven my electric car from Woking to Prague. I was the first person in the world to do that."
How did the electric cars handle the altitude in the Alps?
They had no trouble at all. With an electric motor, engines don't overheat or explode. The joy of driving in the Alps is that once you've climbed up to the pass and are then driving down the other side, you use regenerative braking. So by the time you get to the bottom your battery is fully charged again.
Regenerative braking?
"It's an energy recovery mechanism, which slows a vehicle or object down by converting its kinetic energy into another form, which can be either used immediately or stored until needed."
Are the WAVEs just for fun?
"No, they're not only for fun. At every overnight stop we visit the town's school or college and line up the cars for the students to admire. We also try to answer all their questions about this new technology. Climate change is a big problem which we really have to prepare for. And we need to develop the technology now. That's really what this is all about."