FROM POLE TO POLE AN EXTRAORDINARY INSTALLATION
There is more to Antarctica than just ice-cold winter days. It's also the windiest place on earth. These conditions put an extreme amount of pressure on the applications used to survive in this part of the world — as well as on the bolted connections that keep these applications together.
This is where installer Trygve Jakobsen needed to secure giant satellite antenna radomes safely to the ground. A radome (radar + dome) is the weatherproof enclosure that protects a radar antenna from the elements. In very few locations is this installation as crucial as in Antarctica. "When the winds reach hurricane force, the big radomes act almost like a plane wing —they generate a lifting force "Our job is to build the foundation towers, which are up of up to 40 tonnes," explains Trygve Jakobsen, a welder and installation expert at LNS Spitsbergen, based in Longyear byen, the northernmost city in the world, located on the west coast of Spitsbergen island.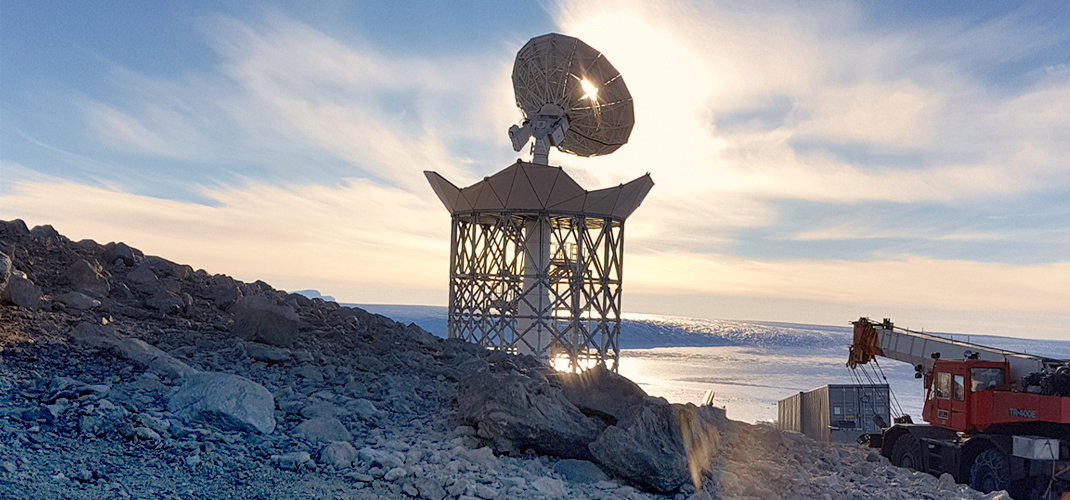 Jakobsen recently returned home after spending two months installing steel foundations for a new set of satellite antennas at the Troll Research Station in Antarctica — a base for climate researchers from the Norwegian Polar Institute, as well as the site for commercial satellite communication operated by Kongsberg Satellite Services.

Previously, the antenna foundations were welded together. Now, the steel structures are bolted instead. The process is much more efficient and just as strong — as long as the materials are top-notch. In the harsh climate, fasteners must be able to endure decades of temperatures as low as -60° and winds of up to 88 kilometers per hour.
"Our job is to build the foundation towers, which are up to 13 meters high, with the antennas and the protective radome perched on top," says Jakobsen. "With such strong winds and the heavy loads and vibrations induced on the foundation, there is no room for error or weak links when we bolt it all together."
Jakobsen and his team drilled poles deep into the ground. The prefabricated foundation base components were positioned on top of the poles and welded in place. From there, all the parts were bolted together. In this case, the installers relied on Nord-Lock washers to make the bolted joints as stable as possible.
These washers are a bit different, as each part actually consist of two washers glued together. This solution provides an incredibly strong joint," Jakobsen says.
Beating the toughest climatic conditions - technical insights
Hans Roger Borgersen, founder and CEO of Norwegian start-up HR Tech AS, helped to design the installation at the Troll station. His customer base is dominated by clients in the oil and gas industry, where strong winds, salt water and freezing temperatures are only a few of the challenges Borgersen enjoys meeting. He explains:
"My work focuses on delivering quality tools, welding equipment and fasteners used on installations in Svalbard, Canada and Antarctica, where the extreme climate demands very high quality from every single piece in the puzzle."
In addition to the many parts they keep in stock, HR Tech also provide development and consulting work to ensure that critical installations are being planned and executed properly.
Installations in windy polar climates are exposed to heavy loads and vibration forces that place a lot of stress on every joint. That is why we chose Nord-Lock original washers for the Troll Satellite Station," Borgersen says.
Thanks to the reliability of Nord-Lock products, the lifetime of the new Troll station antenna systems increased compared to earlier installations. In conditions such as these, that's a remarkable feat."
The client: Kongsberg Satellite Services

End customers: Troll Satellite Station, Antarctica

Application: Radar antenna foundations

Challenge: Secure big radomes which protect satellite antennas from 80 kph
(50mph, 22 m/s) winds.

Nord-Lock Group solution: Nord-Lock original washers with zinc flake coating

Benefits gained: Reliability, stability and extended installation lifetime
Subscribe to our free magazine
Stay up-to-date with the latest news, insights and knowledge in the bolting industry by subscribing to Bolted magazine!
Subscribe Bolted magazine