Strong support – on and off the pitch
Fan safety in football stadiums has come a long way in recent decades, yet collapses and accidents still occur. When Bernhard Baumhus GmbH was tasked with building a stand for a newly promoted Bundesliga club, it was integral to the design to find an optimal bolting solution.
In 2019, the football club SC Paderborn 07 secured its second successive promotion, to go from the third tier of German football to the first – the Bundesliga – in just two seasons. For only the second time in the club's 113-year history, the club would be hosting footballing giants like Bayern Munich and Borussia Dortmund.
The Bundesliga has the highest average attendance of any football league in the world and is renowned for its many boisterous and passionate fans. In preparation, Paderborn's home ground – the Benteler Arena – needed to be upgraded and expanded by some 2,000 seats to a 15,000 capacity.
Withstanding thousands of jumping fans
Steel construction company Bernhard Baumhus GmbH got the assignment, and they only had three weeks over the pre-season to complete a new grandstand. As with all modern football stadiums, safety is paramount with strict regulations ensuring spectators are protected against fire or collapsing stands.
While German football fans' tendency to jump up and down in unison can create an incredible match-day atmosphere, it also adds extra strain to stadium structures. Bernhard Baumhus' engineers calculated that during a match the new stand would be subjected to around six vibrations per second. If not properly secured, the consequent dynamic load could cause bolts to loosen.
A falling bolt or nut can lead to severe injuries for the spectators. If the load-bearing capacity of the structure is affected, the consequences can be even more catastrophic.
Such accidents are unfortunately not uncommon in world football. As recently as January 2020, the roof of a stadium in St. Petersburg, Russia, collapsed killing a construction worker. In 2019, a large section of the roof of AZ Alkmaar's stadium in the Netherlands collapsed due to strong winds, fortunately not injuring anyone as the stadium was empty at the time.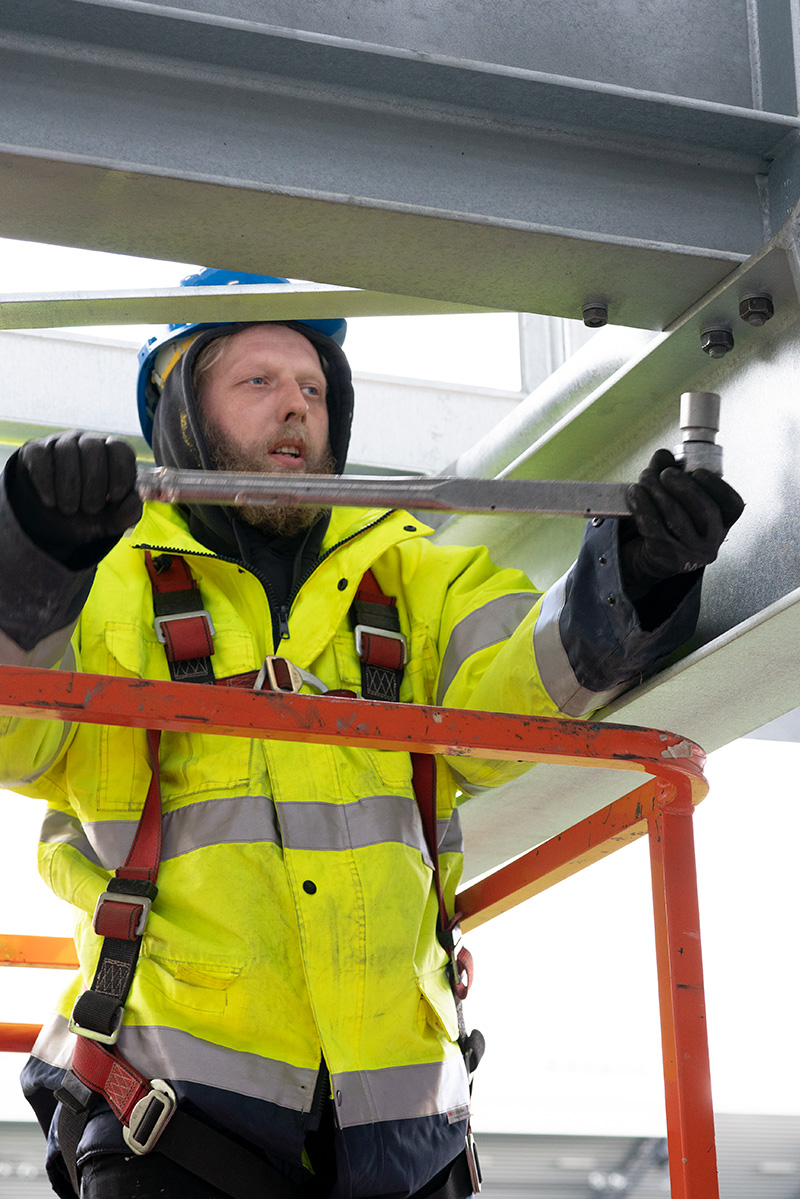 A simple yet highly effective solution
Bolted connections are always critical in steel construction. They can either be bolted or welded, but with changes in production methods and automated processes for drilling holes, bolting has become more widespread.

There are also different types of fasteners. However, after exploring the various options available and witnessing a Junker test conducted by Nord-Lock, Bernhard Baumhus elected to use Nord-Lock steel construction (SC) wedge-locking washers. Only Nord-Lock SC washers can be used for all common bolted connection in steel construction.
The proven Nord-Lock principle prevents the bolt from coming loose. The Nord-Lock SC-washer pairs have special chamfers on the inner diameter on both sides to ensure an optimal contact surface between the bolt and the washer. Therefore, the washers can't be installed upside down. The bolt is secured using a plus tension and not friction.
Compliance with relevant regulations
Bernhard Baumhaus were confident that the SC-washers would be able to withstand vibrations and prevent loosening. Another significant advantage was that independent institutions approve Nord-Lock washers for their use and effectiveness in construction applications. This led to different national technical approvals and European Technical Assessments (ETAs).
Even if SC-washers are used together with HV sets, it is possible to replace the original washers and still comply with the current legal framework. No significant design changes were needed.
In total, Bernhard Baumhaus has used thousands of Nord-Lock SC washers. By the time the 2019–2020 Bundesliga season kicked off, the new Benteler Arena was complete and ready, giving SC Paderborn 07 a first-class football stadium to match its new status as one of Germany's top football clubs.
Customer:
Bernhard Baumhus GmbH
End-customer:
SC Paderborn 07 football club
Location:
Paderborn, Germany
Application:
Stadium expansion
Solution:
Nord-Lock steel construction (SC) washers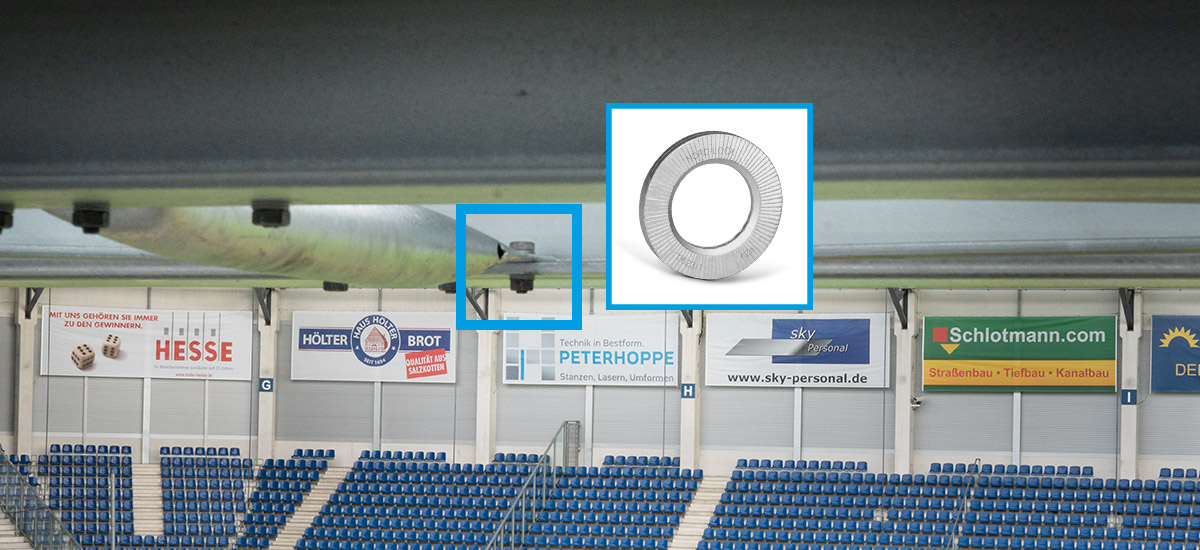 About Nord-Lock Steel Construction (SC) washers
Designed to fit both HV and HR bolts and nuts. Approved for use with HV sets, and a direct replacement for standard plain chamfered washers (EN 14399-6).
Other advantages include:
Prevents loosening caused by vibration and dynamic loads
Quick to install and remove using standard tools
Locking function not affected by lubrication
Reusable
Rigorously tested and approved by independent institutes and certification authorities.
Subscribe to our free magazine
Stay up-to-date with the latest news, insights and knowledge in the bolting industry by subscribing to Bolted magazine!
Subscribe Bolted magazine