Providing safety in huge steel constructions
When durability and safety are absolutely critical in a construction project, small things like washers can have a huge impact. That is why steel construction company Haslinger Stahlbau chose Nord-Lock SC washers when extending the giant crane system at the Salzgitter flat steel mill in Germany.  
As a leading European steel construction company with 450 employees and an expected turnover of 90 million euros in 2019, Austrian company Haslinger Stahlbau (Eng. steel construction) is constructing everything from industrial plants to bridges, power plants and shopping centres.
One of the company's most spectacular projects so far is the famous Elbphilharmonie concert hall in Hamburg, Germany. For the mighty Grand Hall, which is 55 meters in diameter, Haslinger designed, produced, supplied and fitted the steel support structure with 14,443 node joints of the steel support structure.
"This was a real highlight," says Haslinger CEO Arno Sorger, who describes himself as a pragmatic engineer not prone to exaggeration.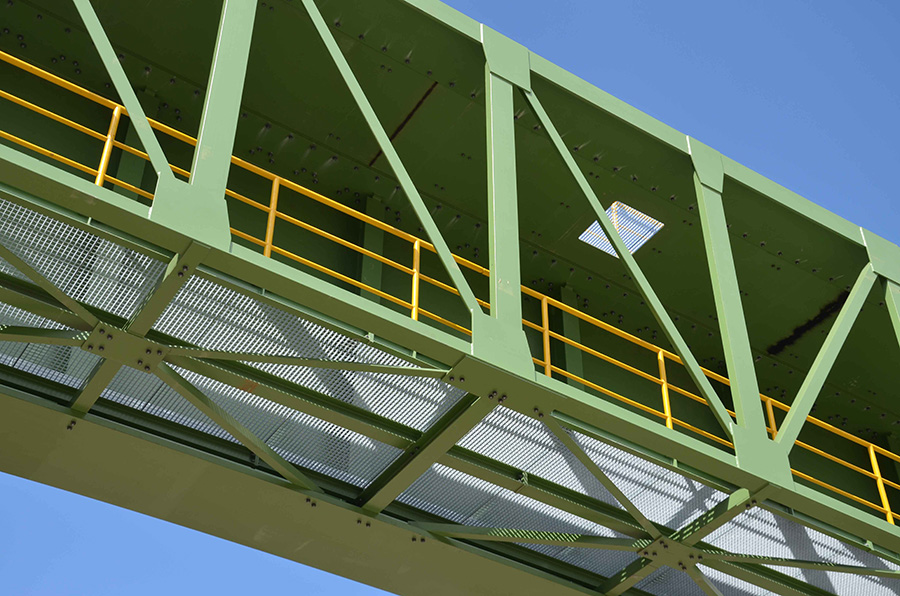 Guaranteeing the safety
Maybe not as glamorous, but still an important and demanding project, was the extension of the crane system at Salzgitter AG's flat steel mill, which Haslinger was assigned to perform in 2018. The project included construction of the new parts for the crane system, which was extended by 88 meters, using some 2,000 tons of steel.
Salzgitter AG is a German steel technology group with a global presence. It is one of Europe's largest steel producers with rolled steel and tube products as the main products. The company's flat steel mill is located close to the world-leading automobile manufacturer Volkswagen in Wolfsburg, Germany, and Salzgitter needed to expand its storage capacity for steel slabs used for producing flat steel for car chassis.
Nord-Lock SC-washers for steel construction were an integrated part of the offer guaranteeing safety during the enormous movements that the bolts have to endure in the crane system which has a span of 37.5 meters and lifting capacity of 36 tons.
One of few that meet the regulations
"With such brute forces, you want to make sure that all the connections are really safe", says Sorger, who sees a strong trend towards improving safety in all industries, something that was not always the case in the past. He adds: "You might think that a washer is just a tiny component and not so important. But in a project like this, you have thousands of them, and loosening bolts are nothing less than a nightmare. Nobody wants to take a risk like that."
Typically, construction companies buy packages that include bolts, nuts and washers. But to achieve maximum safety, they need to replace the original washers in the package with chamfered Nord-Lock SC-washers. These belong to a very restricted number of established methods of complying with the current legal framework. They were used to secure all newly added bolted connections in the Salzgitter project.
Initially, Haslinger considered alternative bolting solutions. "But Nord-Lock won the bidding because of its competence, quality and best total price", says Sorger, who describes the cooperation with Nord-Lock as very positive. "We were also impressed by their delivery reliability."
Opening doors to new opportunities
Haslinger is currently competing for another big project at the Salzgitter site, a completely new galvanizing workshop where the construction will use 6,000 tons of steel. Sorger is extremely pleased: "The successful crane extension may turn out to be an entrance ticket to getting more business. Salzgitter was very satisfied with the quality and the completion of the whole project."
Part of the success is related to Haslinger's ability to deliver complete construction solutions that cover every step from designing to planning and constructing. This improves efficiency and leads to solutions that are more mature and secure. "But at the end of the day," Sorger stresses, "it is the customer's purchasing department and the price of our offer that decide if we get the project or not."
For the Salzgitter crane system extension, it all worked out perfectly: an attractive package of price, quality and safety that was well received by the customer Salzgitter, and which opens doors to new business opportunities.
The client: Haslinger Stahlbau, Austria
End-customer: Salzgitter AG, a German steel technology group
Application: Extension of an existing crane system at a flat steel mill
The solution: Nord-Lock SC (steel construction) washers
Benefits gained: Minimizing bolt loosening and improving safety
Subscribe to our free magazine
Stay up-to-date with the latest news, insights and knowledge in the bolting industry by subscribing to Bolted magazine!