Nord-Lock expands and future-proofs its production
Amongst the Swedish winter landscape – just a stone's throw from an old red barn with yellow doors where the Nord-Lock story started – a new Nord-Lock high-tech facility is taking shape.
It was here over 35 years ago that Nord-Lock started manufacturing wedge-locking washers. Now the company is part of the Nord-Lock Group and is a world leader in wedge-locking washers. By expanding its current building from 5,300m2 of the production facility and offices to 8,700m2, the company is making a giant leap forward in its improvement and development work. With the expansion, Nord-Lock will create new and more efficient production lines, introduce new machines with more automation, as well as offering better premises for optimized workflows.
"The expansion will also allow us to utilise the heat we produce to heat the building," reports Daniel Eriksson, Product Manager at Nord-Lock. "There will be 100 percent heat recovery from production and all incoming energy is from renewable local sources, such as wind and hydropower."
The icy water of the Indal River farther down the valley is also put to good use in Nord-Lock's cooling system. Even in summer, the water temperature in the river never reaches more than 15°C. This is a scenic and clean location for a high-tech industrial company that also sets high standards: The only things to leave Nord-Lock are clean water and carbon dioxide. Not to mention the millions of wedge-locking washers that secure bolted joints in the most exposed applications all over the world. Washers that secure applications in mines, bridges, trains, heavy machinery, wind turbines – from one thousand meters below the ocean surface and all the way up into space, these washers are making sure that at the very least it won't be screws, bolts or wheel nuts coming loose.
This is a huge responsibility, but Daniel Eriksson calmly notes: "The quality of our products is first class, so I'm not worried that our products will malfunction – what really frightens me is the thought that not everyone is using our products."
Nord-Lock has great faith in its products that "secure our customers' investments, people's lives, and the nuts and bolts of our society" worldwide. This year Nord-Lock engineering team has perfected the coating process and promises 1,000 hours corrosion resistance on all steel wedge-locking washers. The results of the salt spray tests done every week shows that the washers on average do endure over twice as long in the salt spray chamber before any signs of corrosion occur.
"The company is certainly different today, compared to when I started 12 years ago," says Daniel Eriksson. "In 2007, there were 65 of us working here and now we're 165. Globally, we've gone from a workforce of 100 to over 600. Now my workday starts with contacts in Asia, by lunchtime I'm talking to Europe and before I go home, I'm working with the US."
Nord-Lock is part of the Nord-Lock Group, which is owned by Latour, an investment company with a turnover of SEK 10 billion. A stable and long-term owner who makes sure the investments in Mattmar are both feasible and futureproof.
Anders Manfred, Division Director at Nord-Lock, comments: "We're investing for the future, but our journey is about much more than that. This expansion will also enable us to get better at managing our internal flows and ensuring production continuity. It's now about increasing the quality and precision in our production, as well as orders, sales and logistics."
Daniel Eriksson notes: "We're managing margins of thousandths in our production, so of course precision is crucial to the accuracy of the tolerances we have for both cleanliness and tools. The many years of experience and special skills of our engineers are what set us apart from our competitors. More than anything else, we're a knowledge company."
Customer demand for controlled environments, documentation, environmental considerations, reports and follow-ups is growing exponentially. Certifications and standards are important, and an integral part of day-to-day life at Nord-Lock. Many customers from all over the world choose to come to Mattmar to discuss solutions with engineers, carry out tests in the development lab and see production on site. Transparency, logistics, checks and tests instill confidence, and are totally crucial for many prospective Nord-Lock customers.
"The pleasant and open atmosphere here is also evident in our lunchroom. All the employees eat here together – a perfect illustration of the kind of company we are," reports Anders Manfred. "We have members of staff who've been working with wedge-locking solutions for 30 years, who can come forward to talk about their ideas. We're constantly developing and have a strong and innovative business culture."
Nord-Lock solves complicated problems together with the customer on-site, meaning when customers leave Mattmar to head home, they take a solution with them. The designers and engineers in Mattmar possess knowledge that can't be found anywhere else in the world, and many of the machines have been constructed from scratch by Nord-Lock.
"The people who work here are our most important asset," says Anders Manfred proudly. "The expansion will also mean further improvements to the workspace of all employees. Clearly, we want everyone to feel they're coming to a good workplace every day."
"Concentrating all our specialist expertise on wedge-locking washers here in Mattmar means we get great depth to our competence," says Daniel Eriksson. "Spreading production across several locations would have diluted that specialist competence. The concentration of expertise under one roof is the whole reason we've become what we are today – a world leader in wedge-locking washers."
Erika Olsson, Engineer and Production Support Manager, points out that laser marking with numbers makes every washer traceable down to the steel quality. "Whilst a washer may seem an insignificant product at first glance, it is produced in an extremely high-tech way. Control and accuracy are the hallmarks of the company and evident in everything it does."
Erika Olsson continues: "Because of our flexible production with a strong customer focus, we also need clear internal communication that allows us to accurately predict what a change involves and how it will affect the rest of our production,"
Everything Nord-Lock produces still needs to be of the very highest class and washers from the regular flow still need to be sent to their distribution centers in Europe, the USA and Asia – even when a large special order has come in. "Our logistics are world-class and we've been working for some time, for example, to switch deliveries from air freight to ships. Reducing our emissions is one of many sustainability issues we're tackling daily," says Erika Olsson.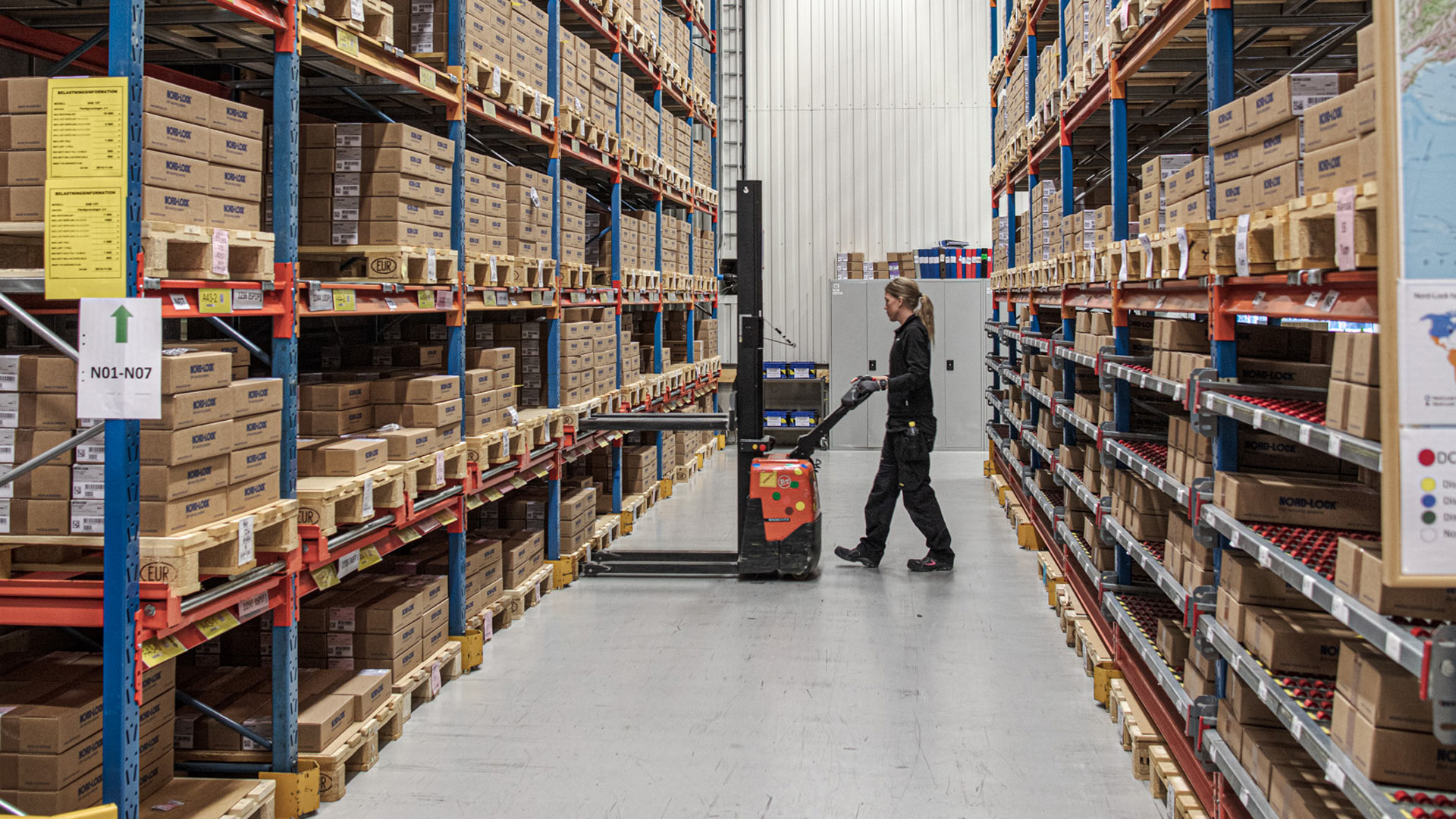 Erika Olsson and her team of engineers also need to shift focus on a daily basis between here-and-now assignments and visions for production over the next ten years. "We're not just developing and improving for today, we need to think ahead and plan for potential needs beyond the horizon," mentions Erika Olsson. "There's a great deal of work on forecasts and analyses, and naturally we're affected by global megatrends. We've got a fantastic team dedicated to getting the best out of all our new investments. It feels absolutely amazing to be taking this next step."
Being customer-oriented also means the customers' demands govern production improvements and product development. Of course, it helps that the Nord-Lock Group operates globally, with different sales companies and distribution centers. Global customer contacts provide crucial input for future ventures.
"Needless to say, we want to solve specifications that we can't solve today; requirements that no one else in the world can deliver today," says Daniel Eriksson.
"We're creating our own future," adds Anders Manfred. "The need for secure bolted joints exists worldwide and a lot of our work involves getting the word out about our products. Simply getting more companies to think about how to secure a bolted joint. We have an alternate – and most importantly safer – solution compared to the way many people seem to think a bolted joint should be secured."
Guarantees are very important, of course, when it comes to key construction, such as bridges, industrial machines, wind and hydroelectric power plants, which are vital for resilient societies and infrastructure worldwide. Nord-Lock has carried out several thousand "Junker tests" and has acquired unparalleled experience in how to secure bolted joints and bolts. When an international customer was unable to find either a lab or an institute anywhere in the world capable of helping them carry out tests on really large dimensions, M39, they turned to Nord-Lock. The engineers accepted the challenge for the customer's requirements and created the world's largest Junker machine – Super Junker – capable of testing dimensions of up to M48.
"Our Super Junker is a testament to our experience and quality assurance in terms of engineering expertise," says Anders Manfred. "It makes us unique in the world. We want to be at the forefront – and even one step ahead of that."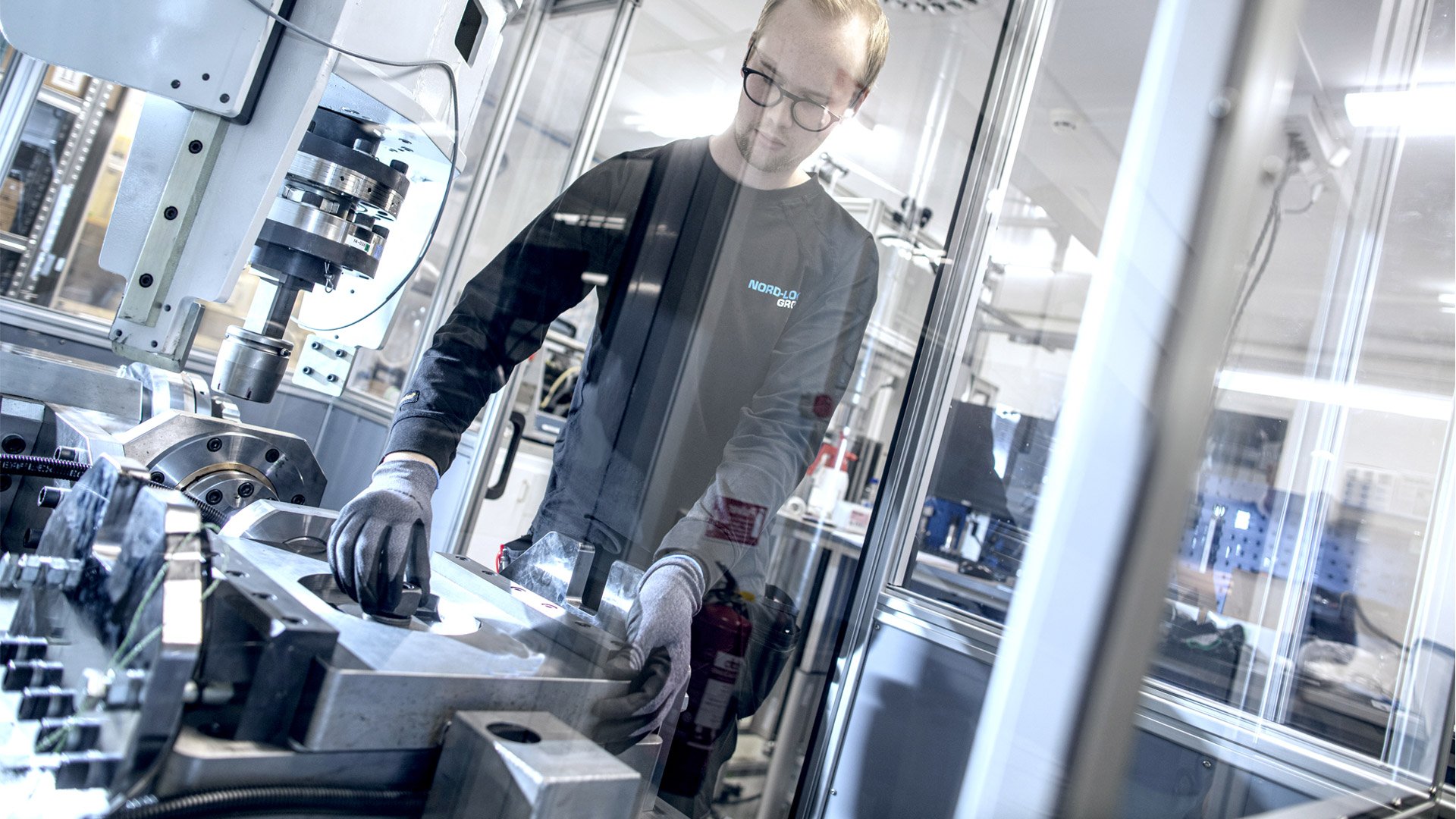 "But nothing's so good that it can't be made even better," Daniel Eriksson points out. "The level for standards is set according to what is achievable, so the requirements are getting higher and higher. If we can supply a washer that lasts twice as long, less servicing will be required, meaning longer maintenance intervals for our customers."
With the expansion in Mattmar, Nord-Lock is opening up new possibilities for its improvement work, as we complete our tour of the site. The extension will be completely finished by October 2020. A building that will be filled with hardware, as well as digital and human software. "Anyone can buy a new machine, but only those with specialist expertise can create the products of tomorrow," concludes Anders Manfred. "And we're making them here at Nord-Lock in Mattmar."