Your result

| | |
| --- | --- |
| Capacite de blocage | 3 |
| Reutilisable | 0 |
| Securite opertateur | 3 |
| Cout d'acquisition | Elevé |
| Cout global | Moyen |
SCALE: 0 = Ne s'applique pas 1 = Inadapte 5 = Adapte

How did we calculate?
Are locking wires effective
against bolt loosening?
Le fil frein, ou fil de sécurité, est une méthode de verrouillage mécanique. Cette méthode fonctionne en enfilant un fil dans un trou, dans la tête de boulon/d'écrou, en le tournant pour verrouiller ce boulon en place puis en reproduisant le processus à travers une ou plusieurs têtes de boulon/écrous - verrouillant ainsi toutes les connexions boulonnées ensemble.
Tout fil excédentaire est retiré une fois le processus terminé. Il est impératif que le fil soit installé de telle sorte que la tension dans le fil ne permette à la tête de boulon /écrou de tourner que dans le sens du serrage. La tension de chaque section de fil doit également être verrouillée pour ne pas être affectée par le desserrage accidentel d'une autre tête de boulon/écrou de la série.
Bien que cette méthode offre plutôt une bonne résistance au desserrage, sa mise en place est consommatrice de temps. Cela implique aussi que la tête du boulon/écrou soit percée pour le passage du fil, ce qui augmente son coût. La seule façon de retirer le fil frein est de le couper, ce qui signifie qu'il ne peut être réutilisé et qu'un nouveau fil doit être réinstallé après chaque maintenance.

Read the full version in the eBook "Why do bolts loosen?"
(A comparison between common bolt securing options)
Scroll down to access the ebook.
Which bolt locking product should I use?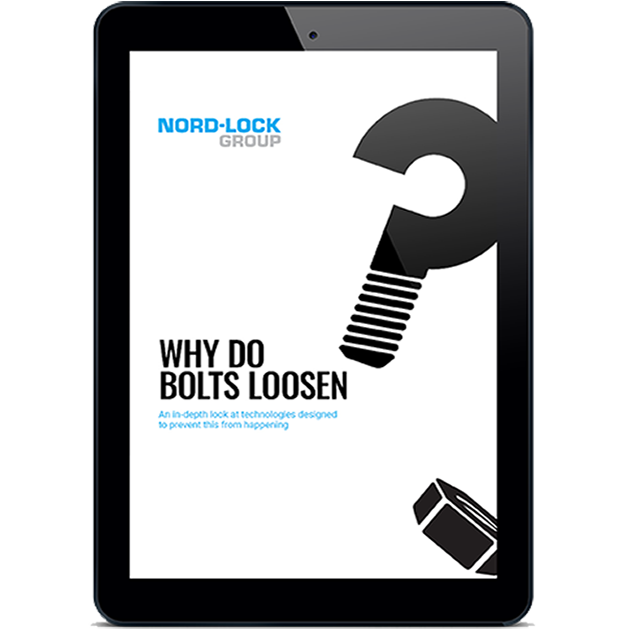 Pros & Cons of different bolt locking methods
A Guidance for Selection, to help you decide which product to use in your applications
DO YOU WASTE VALUABLE TIME INSTALLING LOCKING WIRE?
Talk about bolting challenges with us!
Do you need guidance choosing the best bolt securing solution for your application? Let our bolting experts guide you.
Try the Original Wedge-Locking Washer