Your result

| | |
| --- | --- |
| Capacite de blocage | 5 |
| Reutilisable | 4 |
| Securite opertateur | 4 |
| Cout d'acquisition | Elevé |
| Cout global | Bas |
SCALE: 0 = Ne s'applique pas 1 = Inadapte 5 = Adapte

How did we calculate?
How effective are Nord-Lock wedge-locking washers against bolt loosening?
Le principe de la rondelle à effet de came est d'utiliser la tension plutôt que la friction pour sécuriser l'assemblage. Il s'agit d'une paire de rondelles, qui ont des cames dont l'angle d'inclinaison est supérieur au pas du filetage du boulon. La paire de rondelle est montée came contre came, entre la tête du boulon/écrou puis l'assemblage est serré comme un assemblage non sécurisé. Lorsque la fixation est serrée, les stries (situées sur les faces externes des rondelles) s'ancrent dans les surfaces de contact, créant un blocage et permettant un mouvement uniquement entre les cames. Toute rotation du boulon/écrou est ainsi bloqué par l'effet de cames.
Les rondelles Nord-Lock ont un coût d'acquisition supérieur aux autres systèmes de fixation. Cependant, elles sont aussi les plus appropriées pour sécuriser des assemblages critiques soumis aux vibrations et aux charges dynamiques, et peuvent être réutilisées ; ce qui réduit les coûts à long terme.
Read the full version in the eBook "Why do bolts loosen?"
(A comparison between common bolt securing options)
Scroll down to access the ebook.
Which bolt locking product should I use?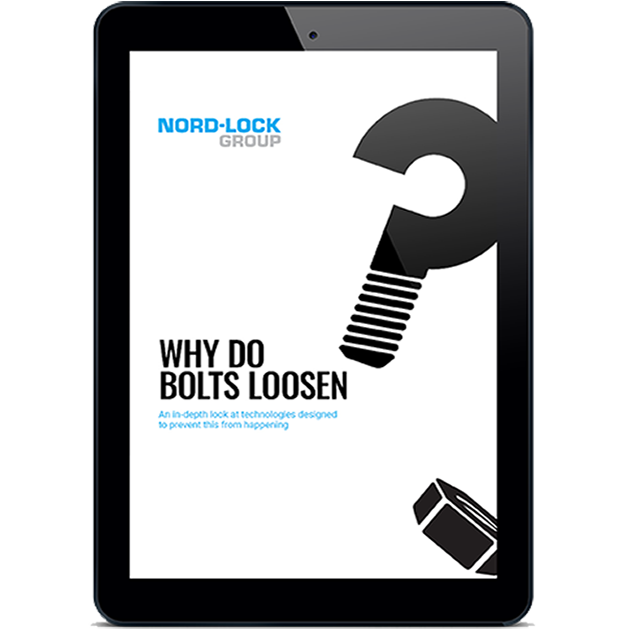 Pros & Cons of different bolt locking methods
A Guidance for Selection, to help you decide which product to use in your applications
LOOKING TO ELIMINATE NUT AND BOLT LOOSENING?
Talk about bolting challenges with us!
Do you need guidance choosing the best bolt securing solution for your application? Let our bolting experts guide you.
Try the Original Wedge-Locking Washer