Your result

| | |
| --- | --- |
| Capacite de blocage | 0 |
| Reutilisable | 1 |
| Securite opertateur | 4 |
| Cout d'acquisition | Moyen |
| Cout global | Elevé |
SCALE: 0 = Ne s'applique pas 1 = Inadapte 5 = Adapte

How did we calculate?
Are disc spring washers effective
against bolt loosening?
Les rondelles à ressort, également appelées rondelles coniques utilisent des charges de ressort pour créer une flexibilité axiale. Elle permet de contrebalancer le tassement en gardant toujours une réserve élastique afin de maintenir la précharge. Les rondelles coniques sont installées entre l'écrou/la tête de vis et la surface de contact. Leurs capacités mécaniques dépendent de la forme du matériau.
Lorsqu'elle est soumise à une charge, la rondelle subit une déformation élastique puis reprend sa forme initiale. Elles peuvent être empilées, pour augmenter la raideur et/ou augmenter la longueur élastique. La raideur peut varier suivant l'épaisseur, la forme et taille de la rondelle – ainsi l'opérateur peut ajuster à souhait les caractéristiques élastiques de l'assemblage.
Read the full version in the eBook "Why do bolts loosen?"
(A comparison between common bolt securing options)
Scroll down to access the ebook.
Which bolt locking product should I use?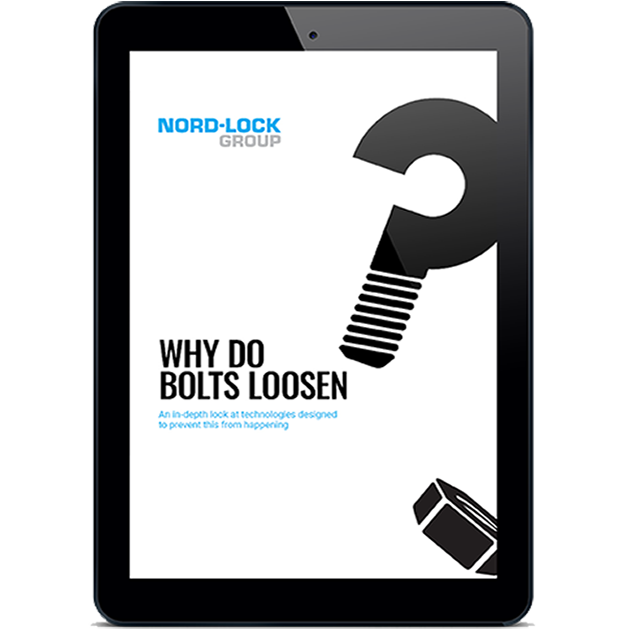 Pros & Cons of different bolt locking methods
A Guidance for Selection, to help you decide which product to use in your applications
ARE YOU STILL EXPERIENCING BOLT LOOSENING?
Talk about bolting challenges with us!
Do you need guidance choosing the best bolt securing solution for your application? Let our bolting experts guide you.
Try the Original Wedge-Locking Washer