Your result

| | |
| --- | --- |
| Capacite de blocage | 1 |
| Reutilisable | 0 |
| Securite opertateur | 4 |
| Cout d'acquisition | Bas |
| Cout global | Elevé |
SCALE: 0 = Ne s'applique pas 1 = Inadapte 5 = Adapte

How did we calculate?
Are tooth lock washers effective
against bolt loosening?
Les rondelles éventail sont conçues pour empêcher les assemblages boulonnés de se desserrer en utilisant la friction. De la même manière que les rondelles striées, les rondelles éventail présentent des dentelures ressemblant à des dents à l'intérieur ou à l'extérieur. Elles sont installées entre la tête du boulon/écrou et la surface de contact, l'assemblage boulonné est ensuite serré de la même manière qu'un écrou non sécurisé. Lorsque l'assemblage est serré, ces dents mordent dans la surface de contact.
Ces rondelles fonctionnent mieux avec des surfaces tendres car les surfaces dures aplatissent les dents - les empêchant de s'ancrer avec succès dans la surface et de sécuriser l'assemblage.
Read the full version in the eBook "Why do bolts loosen?"
(A comparison between common bolt securing options)
Scroll down to access the ebook.
Which bolt locking product should I use?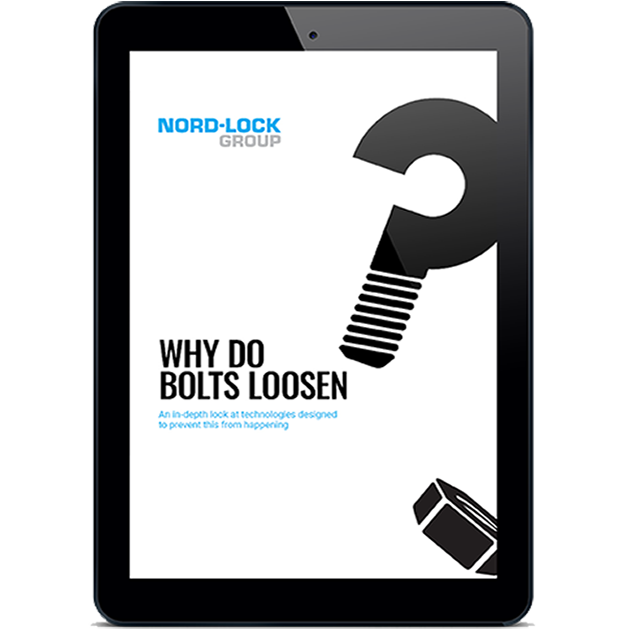 Pros & Cons of different bolt locking methods
A Guidance for Selection, to help you decide which product to use in your applications
DO YOU REGULARLY NEED TO CHECK IF YOUR BOLTS AND NUTS ARE STILL TIGHT?
Talk about bolting challenges with us!
Do you need guidance choosing the best bolt securing solution for your application? Let our bolting experts guide you.
Try the Original Wedge-Locking Washer