How to optimize a bolted joint through clamped length?
What is clamped length?
Clamped length – LK – is the free length of a bolt that is stretched under tension, meaning:
In a through-hole (A), the distance between the bolt head and the nut.
In a blind hole (B) – or for a stud bolt (C) – the distance between the head (nut) and the first thread engaged in the tapped hole.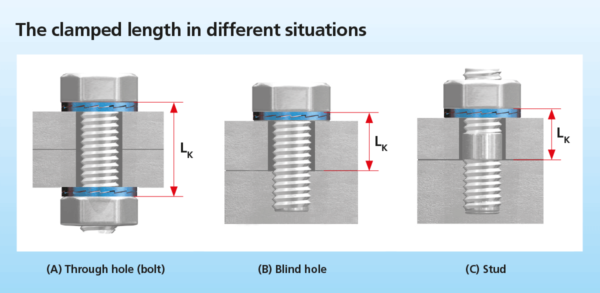 It is also called "grip length" as the total thickness of clamped parts under compression.
To optimise a bolted joint, it is recommended to design the clamped length to at least 3 or 5 times the bolt diameter. Increasing the elasticity of the fastener greatly improves the properties of the joint, as it:
Increases the elongation of the bolt, reducing settlement effect.
Increases the flexibility of the fastener, reducing the risk of self-loosening under vibrations and transverse loads.
Improves the load factor, reducing the amplitude of dynamic stresses in the bolt and minimising the risk of fatigue failure.
Minimises the load transfer loss in case of hydraulic tensioning.
For stiff joints that don't permit a long clamped length, it is possible to implement smart and effective solutions to avoid failure. Instead of using expensive and unattractive spacers, you can, for example, use:
Like this article and want more?
Get engineering and bolting insights delivered straight to your inbox. Subscribe to our insights newsletter now!
Subscribe to our free magazine
Stay up-to-date with the latest news, insights and knowledge in the bolting industry by subscribing to Bolted magazine!
Subscribe Bolted magazine