The power of the sun: transformed by Siemens turbines
Assembling an industrial-sized turbine requires acres of room. It also requires thousands of bolts and washers to be assembled and tightened to guarantee a service life of the product, which in the solar energy, biomass, oil and gas sectors, is typically upwards of 30 years.
Siemens turbine factory in Finspång, Sweden is one of the leading suppliers of steam turbines to the burgeoning solar energy industry. The factory, which also manufactures gas turbines, relies on Nord-Lock safety washers to make sure the bolts in the turbines stay put. This represents savings of almost 80% compared to traditional bolting methods.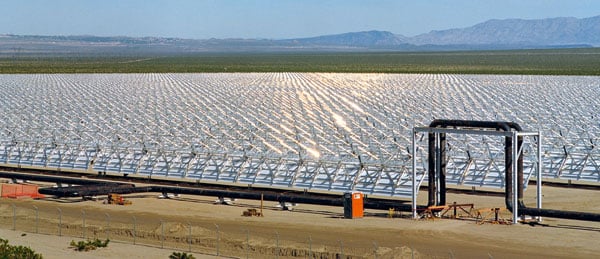 Steam and gas turbines are assembled from pre-machined steel parts. They operate in solar plants, biomass, and in oil and gas facilities, under enormous pressures and temperatures to generate electricity. Historically, tab washers were used to secure bolts. After installation, these washers were manually folded over the bolts to prevent them from moving.
"It is amazing how such a little thing as a Nord-Lock safety washer can be so beneficial. They save an enormous amount of time and they are cheaper," says Martin Lindbäck, who works with R&D at Siemens Industrial Turbomachinery AB in Finspång.
Indeed, anywhere you look in the well-organised factory you see bolts, and more bolts.
"We save a lot of time by using Nord-Lock safety washers," says Nicklas Lundbom, a 14-year veteran of the Finspång factory. "It is a very easy solution that works."
A steam turbine is a device that extracts thermal energy from pressurised steam and converts it into rotary motion to drive a generator that in turn can make electricity. It is like a reverse fan. Hot and pressurised steam is used to spin the blades that impart rotary motion to generate electricity.
The steam turbine is a key component for solar thermal power generation. In these so-called Concentrated Solar Power (CSP) plants, water, and sometimes oil or liquid sodium, gets heated up by solar panels, or mirrors, which concentrate the sunlight in three different ways – a parabolic trough collector, a linear Fresnel collector, or a solar tower. In each case, the solar energy is used to make steam to drive a turbine.
Interestingly, the heat can be stored for hours, for example in tanks filled with molten salt, which means that solar thermal power plants can also supply electricity when the sun is no longer shining. Power generated in this way does not produce any pollutants like carbon dioxide.
According to a one-year production estimate, two out of every four steam turbines made in Finspång will be used in the solar industry."The solar energy market is notoriously cyclical and highly dependent on government subsidies," says Lars-Göran Sjöberg, General Manager for Industrial Steam Turbines at Siemens Industrial Turbomachinery. "But we have had a good run."
"As living standards increase around the world, an incredible need for electricity arises. And everyone agrees that renewable energy in the form of biomass, wind and solar is the way to go," says Sjöberg.
Some notable Siemens steam turbines that are being bolted together in the Finspång factory include the 123-MW steam turbine for BrightSource Energy Inc's Ivanpah Solar Complex in Southern California. The order is for an SST-900 steam turbine that is especially suited for the load swings and frequent starting and stopping that is characteristic of solar energy generation.
In the gas turbine field, the Siemens Energy sector launched a new industrial gas turbine on November 18, 2010, in Finspång, Sweden. With a capacity of 37 megawatts (MW), the SGT-750 will close a gap in the Siemens industrial gas turbine portfolio, which offers a power range between 5 and 50 MW. This versatile machine can be employed for both power generation and as a mechanical drive. The new development provides economic viability and eco-friendliness as well as a high level of availability and reliability.
Facts: Siemens Industrial Turbo­machinery AB, finspång, sweden
What it does: Manufactures industrial steam and gas turbines for use in the solar, biomass, oil and gas sectors
Part of: the Siemens Energy Sector which had revenues in 2010 of 25.5 billion euros
Steam/gas turbine range: 50—250 MW/15—50 MW
Turbine weight: up to 200 tons
Turbine length: up to 24 metres
Steam/gas turbines manufactured per year: 20/40—50
Number of employees: 2,700
Acquired from: Alstom Power, 2003
Business arguments
This is how Siemens Finspång benefits from Nord-Lock safety washers:
Time saving – Compared to other bolt locking systems, Nord-Lock washers are faster to install by a factor of 20.
Ease of use – Easier to install and perform service on turbines on customer sites.
Lower costs – 80% costs savings were achieved compared to tab washers that can only be used once.
Safety – No risk of bolts loosening.
Corrosion-resistant – Nord-Lock washers are coated with zinc flake, Delta Protekt®, as a standard.