Powering the industry
Electric motors are often called the "workhorses of the industry", running all kinds of machinery ranging from escalators and ski lifts to huge port cranes. Heavy mechanical movements require a reliable drive that ensures the best torque, speed, and motor efficiency. This reliability often starts with the right bolt securing system.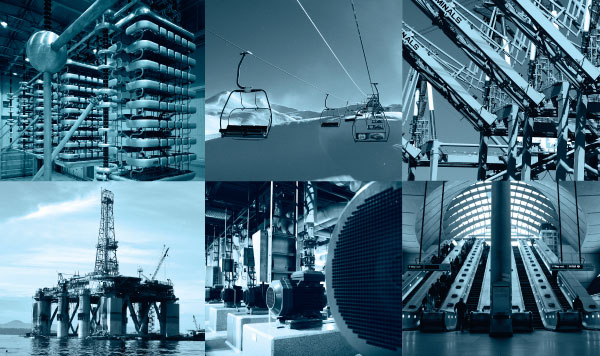 Direct current (DC) motors have been around for almost 100 years. Efficient speed regulation, a compact design and low maintenance make them a great option for almost any industrial application. As the electronics in heavy machinery has to cope with high levels of thermal stress and vibrations, the right bolt securing system is vital to ensure the DC drive's reliability.
ABB is the world's largest drives manufacturer, operating in around 100 countries and employing more than 130,000 people. The company's DC Drives production operation is headquartered in Ladenburg, Germany. The drives are designed for most industries, including metals, cement, mining, pulp and paper, printing, food and beverage, wire manufacturing, oil rigs and cranes.
The DC drive converts AC power to DC voltage in order to vary the speed and torque of the motor. Bolting is an important issue because heavy machinery, such as port cranes, often need to double or even triple the load on the motor, which heats up the power bus bar and can cause the bolts to loosen. Since the beginning of the year, ABB in Ladenburg has been testing a Nord-Lock combi bolt wich is a bolt with integrated Nord-Lock washers. The bolt is a M10x20 to be used for fitting copper bars with thyristor modules. This bolt connection is the core component of the bolt structure in the D4 and F4 power units in two of the company's most important series – the DCS550 standard drives and the DCS800 industrial drives.
"We were used to conventional bolts loosening by 10 to 20 per cent after being tightened," says Holger Kröhler, head of DC Drives Quality Management and Development Design. "But after testing the Nord-Lock combi bolt in more than 1,000 devices, there hasn't been a single situation where the bolts loosened."
Each power unit contains eight bolts. Previously, ABB used two plain washers to secure a bolt. The Nord-Lock washers have a much smaller diameter, which makes it possible to place them nearer to each other in the device. A compact design is crucial for applications where space is at a premium. ABB's DC drive portfolio, which ranges from 9 to 18,000 kW, provides the highest power-to-size ratio on the market. For Holger Kröhler, this is one of the main advantages of ABB drives compared to the competition.
"This is due to the fact that ABB completely separates the manufacturing of AC and DC drives", he explains. "Other companies use the same electronics for both AC and DC. They are therefore much more constrained by restrictions than we are."
Forty to fifty per cent of ABB's DC drives are used to revamp ageing electric components in older plants, making them a simple and cost-effective solution to reduce operational costs and increase capacity. There is a booming demand for this kind of modernisation. The production volume in Ladenburg has increased steadily by 10 per cent per year since 2008. Last year, 13,000 DC drives were supplied by the production facilities and the company expects growth to continue. Holger Kröhler is proud to state that ABB has managed the increased demand without having to hire new employees.
"We put a lot of effort into process optimisation", he says. "We've installed modern equipment and improved handling practices. The new combi bolt from Nord-Lock is another step in this direction."
Forewoman Jutta Zehnbauer has worked at ABB for 26 years and can't even begin to guess how many bolts she has handled over the years.
"With the Nord-Lock combi bolt, we only have one part to work with, instead of three", she says. "That makes the work a lot quicker and easier. Our production people are really happy working with it".
FACTS: ABB GERMANY
What it does: Power and automation technologies
Part of: ABB Group, one of the largest engineering companies in the world, with headquarters in Zürich, Switzerland.
History: ABB was founded in 1988 in a merger of the Swedish company Allmänna Svenska Elektriska Aktiebolaget (ASEA) and Swiss Brown, Boveri & Cie (BBC).
Annual sales 2010: EUR 3.03 billion
Number of employees: around 10,000
Bolt securing: NORD-LOCK
BUSINESS ARGUMENTS
This is how ABB benefits from the Nord-Lock combi bolt:
TIME-SAVING – with just one component instead of three, the bolts are faster to install.
EASE OF USE – fewer components, fewer errors.
SAFETY – bolts don't loosen.
SPACE SAVING – small diameter bolt design enables bolts to be placed close to each other in the device.