Rallying for safe bolted joints
Motor sports are not easy on the cars. High speed, torque, vibrations, g-forces and hard knocks put enormous strain on the cars and their components. We talked to Kee, manager and owner of Hot Bits (Thailand) Co., Ltd, subsidiary of Hot Bits Sdn Bhd, a leading manufacturer of shock absorbers and suspension systems, mainly for demanding customers in motor sports – race, rally, drift and drag.
What is the story behind Hot Bits?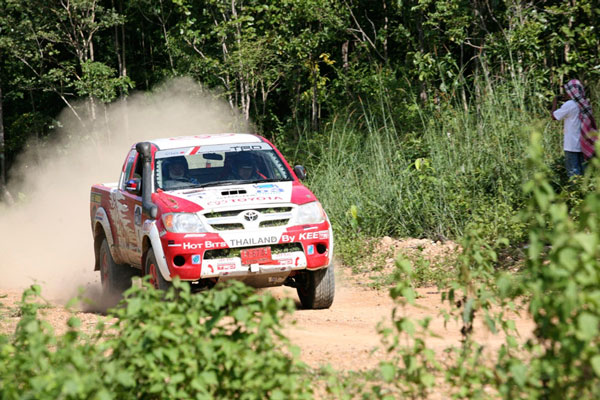 "Hot Bits Sdn Bhd was started in Malaysia by my friend Toh Soon Hin back in 1997. We have been working together to build this brand.
Today Hot Bits has a global network of distributors and service centres in fourteen countries.
We are a small distributor of shock absorbers – the whole application – for various motor sports, as well as for production vehicles. We sell and tune suspensions for most Japanese 4×4 vehicles. We also produce 4×4 shock absorbers for the Australian market under a special brand. For many years we supported Asia Cross Country Rally teams, for example, Mazda Speed Team, RalliArt Thailand, Toyota Team Thailand, as well as the Nissan and Isuzu teams, tuning and modifying suspensions. We have now been engaged by Isuzu Thailand to build up their motor rally cars."
What are the upcoming races?
"In 2015 we are going to attend two cross country rallies: the Asia cross country rally 2015 and the Australasian Safari 2015, which is a very challenging rally with tough tracks. We also have some local cross country rally championship in Thailand. We hope to finish among the top three in all rallies. We will be using Nord-Lock washers of various sizes for the Isuzu Thailand team to make sure that their rally cars are sufficiently secured to battle the Australian race tracks and to beat the local teams."
How did you end up using Nord-Lock products?
"I had been looking for a good lock nut to use in the rally cars that we supported. After the last race of each special stage in the rallies, we used to check all of the nuts and bolts under the suspension and, most of the time, we found loose nuts. We had to tighten all of them again and again. Then earlier this year, one of Nord-Lock representatives introduced the company's portfolio to us. We tested Nord-Lock washers and experienced no problems with loose suspension nuts. We won that first race and have been using Nord-Lock products ever since. It also makes our mechanics' work under the vehicles easier and safer."
FACTS: NATTAWAT RATTANASAKSOPANA (KEE)
Age: 57.
Background: After university he helped his father in the jewellery business. In 1978 he started importing Japanese used parts and in 1984 premium cars. In 1997 he started importing suspensions from Australia.