Ensuring alignment on hydropower turbines
Coupling alignment is key for the smooth operation of hydropower turbines, however, many plants are forced to schedule frequent maintenance due to misalignment. When a hydropower plant in Vietnam was facing excessive shutdowns, they turned to Superbolt EzFit Expansion Sleeve Coupling bolts as a solution.
The hydropower plant, located in Northern Vietnam has a full capacity of 72MW, with three units of 24MW Andritz Hydro Turbines. There are strict coupling alignment tolerances in place on the Francis Turbine units. Every four years, the hydropower plant needed to conduct major maintenance on each turbine unit, which included re-alignment of the Turbine Runner, Intermediate Shaft and Generator Shaft coupling. Every two years, minor maintenance was conducted with only alignment checks necessary.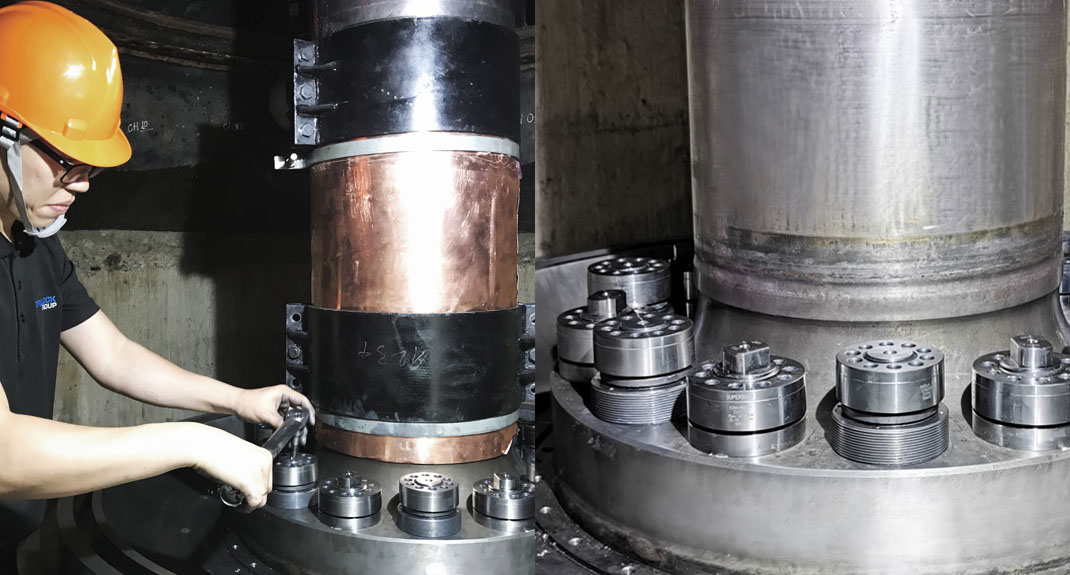 Frequent and costly maintenance
However, in the first six years since the plant began operations, it was discovered that the alignments were always out of acceptable tolerance. This caused the hydropower plant to conduct coupling re-alignment work every two years for each of the three turbine units, raising concerns about the costs and effort required for such frequent shutdown and maintenance activities.
In order to improve the situation, the hydropower plant chose to replace their existing bolts with Superbolt EzFit Expansion Sleeve Coupling Bolts. EzFit mechanical expansion bolts offer tremendous radial expansion and joint clamping power in one bolting system. They are specially designed for rotating couplings or alignment systems that require the bolts to transfer forces in shear.
This innovative product replaces large fitted or interference fit bolts, no modifications required. The key to this solution is the split expansion sleeve that mates with the customers' machined holes. The split sleeve requires less tolerance on mating parts than is traditionally required with interference fit, saving critical machining time.
A practical and reliable solution
Tightening and breaking the coupling has now become a simple and efficient operation. Each coupling bolt took on average just six minutes to install, with only 40Nm of torque required for each jackbolt. Moreover, thanks to the Expansion Sleeve technology, it is expected that the alignment will stay in place without any possibility of deviation during operations. This will reduce the frequency of re-alignment work and ultimately save the hydropower plant a considerable amount in maintenance and shutdown costs.
Customer: Hydropower plant
Location: Northern Vietnam
Application: Turbine Runner Coupling
Solution: Superbolt EzFit Expansion Sleeve Coupling Bolts
Advantages:
Quick and easy to install and remove – only hand tools

needed.

No need for special high-powered tools and bolt deep freezing.
Saves money over alternative solutions in time and

tooling.

Reusable split sleeve that springs back to original size, use after

use.
Subscribe to our free magazine
Stay up-to-date with the latest news, insights and knowledge in the bolting industry by subscribing to Bolted magazine!
Subscribe Bolted magazine