Log Max: building reliable machinery for the world's toughest forestry harvesting
Forest harvesting can be extremely tough on the equipment, and the often-remote workplaces may add days to any production downtime while waiting for machine repairs. Expander System and Nord-Lock washers help Log Max to maintain uptime of key equipment.
If you're in the forestry industry, you know the importance of durable, reliable and effective equipment. The forest can be a remote and unforgiving place, and when you're out logging, there is just no scope for machine malfunctions and production downtime. You also want to avoid any incidents or accidents that threaten operator or equipment safety.
You also don't need reminding about the hassle, frustration and waste of time linked to getting broken-down machinery transported from the forest to the workshop, fixed, and returned. These avoidable delays see your productivity — and thus profitability — go up in smoke.
Nord-Lock Group works with market-leading forestry manufacturers to solve these problems
The Swedish company Log Max has made its name delivering sturdy and innovative forestry equipment. They provide single grip harvester heads, which are mounted on a carrier, such as a large tractor, an excavator or log loader, or a purpose-built forestry machine.
Working out of the small village of Grangärde in the middle of a Swedish forestry district, Log Max has built a strong position in the global market. Of around 500 harvester heads produced each year, about 70 percent are exported, mainly to Europe, North and South America and Russia. The company is part of the Komatsu Group since 2012.
"We don't provide the carrier, but we're a big, well-known player around the world," says Johan Ericson, head of the design department.
Painstaking development process to build the most robust forestry tools
Log Max aims to launch at least two new or updated product models each year. Currently, the product range includes 14 models but also a dedicated control system. Log Max holds several patents, such as the Active Friction Control system that adjusts the knife to the application, improving timber quality and reducing fuel consumption.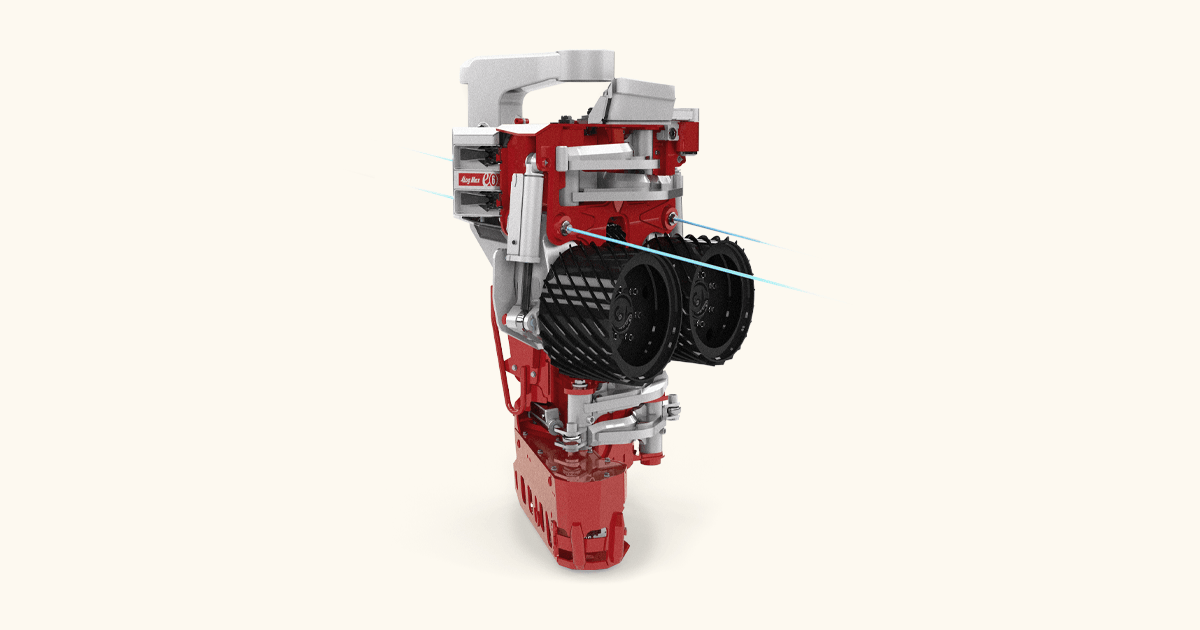 Ericson explains that a lot of development and testing go into every new model. A long list of continuous product improvements proves it, but it can be a time-consuming business. "Our products go through a lengthy development process," he says.
"We are very thorough because anything that we launch must be of the highest quality."
In common with many other manufacturers that produce solutions for harsh environments and demanding applications, Log Max relies on Nord-Lock wedge-locking washers to reduce the risk of failing bolted joints. Mechanical engineer Per Andersson says that Log Max used them when he was hired 20 years ago. Today, they are a given in the design.
"Our steel frames have many threaded holes where there is no nut in the bolted joint," Andersson says. "The Nord-Lock washer design prevents the bolts from loosening."
Expander System is also crucial for very demanding forestry
Log Max uses Expander System extensively as a service and repair method during maintenance. The Expander System is also standard fitted from the factory on Log Max E6 harvesting head for eucalyptus, mainly targeting the South American market.
Logging doesn't come much harsher than eucalyptus tree harvesting. The application is very rough on the equipment, and Log Max developed the E6 head to meet the demands. It features five knives for debarking and delimbing as well as special feed rollers that help rotate the log.
"Unlike traditional harvesting, you also rotate the eucalyptus log while moving it back and forth for more efficient debarking and delimbing," Ericson explains. "There shouldn't be any bark left on the log when you send it for further processing."
The fact that eucalyptus absorbs sand from the ground into the bark further complicates the debarking. In practice, Andersson says, "It's like running sandpaper through the machine, very abrasive, which adds to the wear and tear."
The strains and stresses that the E6 head is exposed to are quite unlike those of Log Max' other harvesting heads. The decision to make the Expander System a standard feature was customer-driven, Andersson says.
"The Expander System is very durable, and you don't need any special tools for maintenance," he says.
"For example, you need to sharpen the knives quite often, and anything that simplifies this and other maintenance will save the customer time and money."
A strong local and global presence
It might seem a long way from a small Swedish village to the South American forests, but Log Max keeps on putting the village on the map. A recent workshop extension has significantly increased the production capacity.
"We're proud of the ways that we contribute to the local environment," Ericson says. "Our headquarters are still in Grangärde, including design and development, production and main sales office but also our main spare parts depot. Most of our subcontractors are also local companies. It's good to know that Komatsu wants us to expand here. I think that means a lot to our long-standing customers."
Click here to find out more about the Expander System and end lug wear once and for all.
Customer: Log Max AB
Location: Grangärde, Sweden
Established: 1980
Number of employees: 85
Main product: Grapple harvesters for the forestry industry
Main markets: Europe, North and South America, Russia
Nord-Lock Group solution: Nord-Lock Wedge-Locking Washers, Expander System Pivot Pins.