Corrosion Resistant Washers Perfect to Secure Marine Fenders
Collisions between vessels and port infrastructure can potentially cause serious harm. Marine fenders are the go-to solution to reduce impact forces, but they need to be installed safely. Corrosion resistant, Nord-Lock wedge-locking washers proved to be the perfect fit in South Korea.
Each year, hundreds of vessels collide with jetties or quays while berthing — sometimes spectacularly. Colliding ships are also quite common. These mishaps are generally due to bad planning, such as miscalculations of speed or wind forces. Lack of communication, for example between a ship's bridge team and the pilot, can also be a problem.
Such accidents may be very costly, causing severe harm to vessels and port infrastructure. In the worst case, people may also get injured or even killed. While a zero incidence for human error is desirable, it will undoubtedly be challenging to achieve.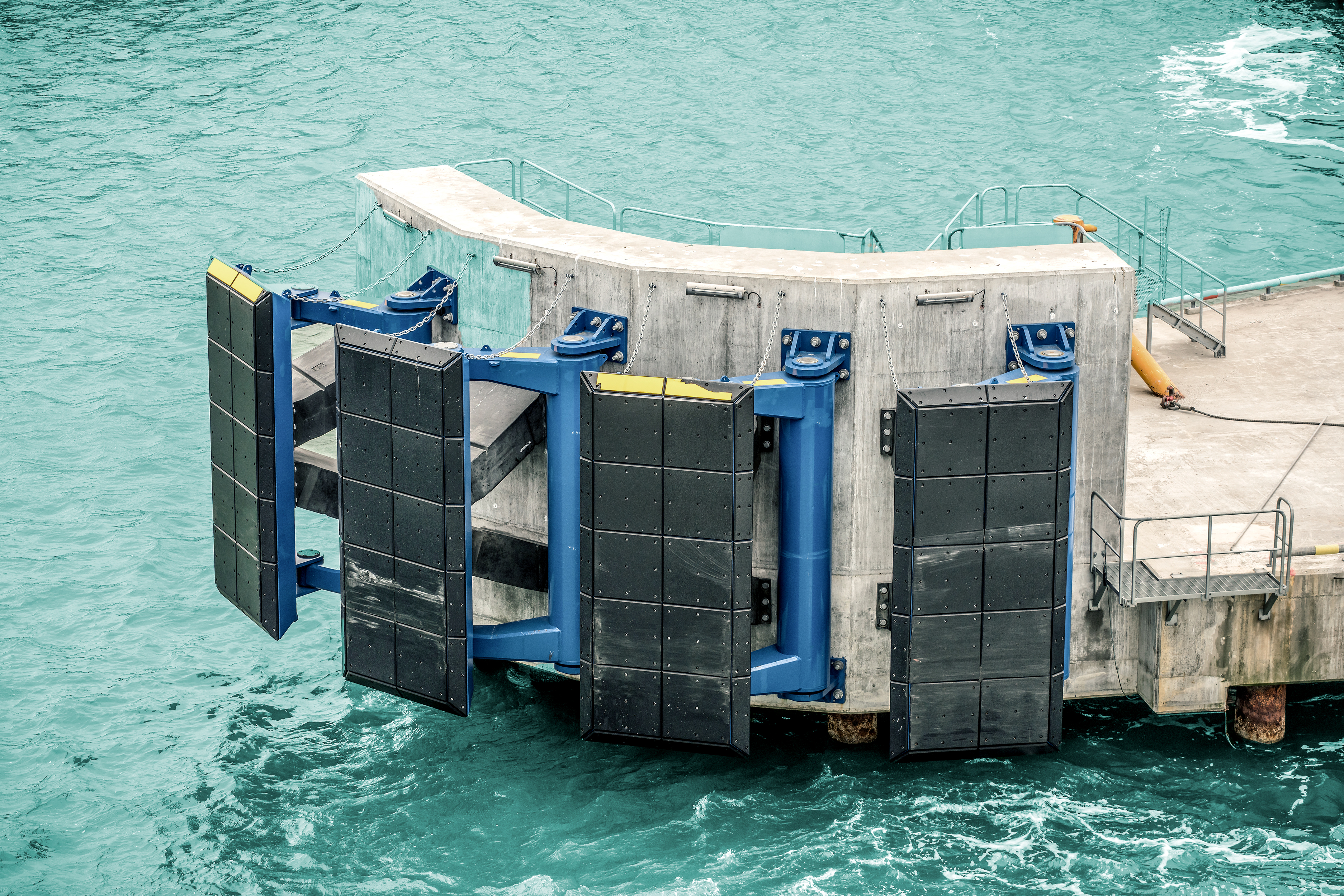 As for berthing, there are just too many variables involved to eliminate collisions. Therefore, it is always a good idea to proactively try to improve safety and reduce the force of impact. The idea of using marine fenders to absorb these forces is probably almost as old as berthing. Today, there is a broad range of marine fenders — in various materials, shapes and sizes — targeting general or more specific requirements.
Finding the right fender solution for a shipbuilding giant
South Korea's coastline spans three cardinal points, and the country has some 3,000 ports of all sizes. Given that South Korea is the world's second-largest commercial ship-building nation, surpassed only by China, it comes as no surprise that it is also prominent in marine fender manufacturing.
The company Hwaseung Corporation supplies various types of fenders to the South Korean shipbuilding industry. Hyundai Heavy Industry, Samsung Heavy Industry, Daewoo Shipbuilding & Marine Engineering and STX Offshore & Shipbuilding, the four largest shipbuilding companies in the world in 2020, are among their customers.
Hwaseung Corporation develops and manufactures various fenders, such as arch fenders, marine fenders, pneumatic fenders and submarine fenders. The company's rubber department supplies the raw material.
Vibrations cause bolt loosening – so how do you secure marine fenders?
The forces that marine fenders have to absorb cause a lot of vibrations. With the plain washers and split-ring washers that Hwaseung Corporation had traditionally used, bolts often loosened. There hadn't been any significant incident, but the problem increased maintenance work time and end-users complained.
Nord-Lock Group Korea general manager Alex Keum had previously worked at Hwaseung Corporation and was aware of the situation. Using this knowledge, he contacted his old company to introduce them to wedge-locking as a superior solution to secure the fenders.
"I approached Hwaseung and the end-user at the same time," he says. "Eventually, after several visits and promotions, Nord-Lock washers were incorporated into their design. Of course, having a good relationship with my old colleagues at Hwaseung helped."
Mr Sung-min Cho, Deputy General Manager, Hwaseung Corporation, says, "We thought that the washers would be a good solution."
"We now can say that we have adopted one of the best anti-loosening solutions on the market."
This solution included the large NL52ss wedge-locking washers at critical points of a particular fender, the TR fender. Keum says that it might seem an unorthodox product choice. "I was frank with Hwaseung that washers can be exposed in the splash zone and told them about the corrosion risk," he says.
"But it's now one and a half years since they installed the washers, and there is no corrosion problem."
The installation of the Nord-Lock washers practically solved the bolt loosening problem. And as expected, the maintenance efficiency has also improved. "Since we need to check the bolting points less often, as the locking effect lasts longer compared to the split-ring washers, it saves us a great deal of time," says a satisfied Mr Cho.
A wedge-locking solution that works for the end user
"The environment for this application is harsh, and if the Nord-Lock washers can solve the problem perfectly, Nord-Lock Group can potentially enter another large market."
He says that the end-users have also responded positively and that they intend to use Nord-Lock washers in the future, both for marine fenders and for other applications.
"Alex Keum approached our company for the first time in 2018, and this is how we got to know Nord-Lock," Mr Cho says. "He explained our concerns and alleviated our doubts very well. I think we built a mutual trust — so much so that we recommend Nord-Lock washers to our subsidiaries."
Customer: Hwaseung Corporation Co., Ltd
Location: Busan, South Korea
Established: 1978
Main products: Pneumatic and Marine Fenders
Nord-Lock Group solution: Nord-Lock Wedge-Locking Washers, NL52ss