Multiple Nord-Lock Group Technologies Put an End to Common Joint Leaks
Leaks in a gas turbine not only cause forced outages and damage to critical equipment, but can also pose a significant safety hazard. By combining multiple products and technologies, Nord-Lock Group has devised a combination of solutions to solve common 501F gas turbine 4-way joint leaks.
4-way joint leaks in gas turbines typically occur over time as extreme thermal variations and startups cause turbine cylinders to warp and distort. Cylinder misalignments compound the problem because flange surfaces don't maintain the maximum contact area needed to ensure a proper seal, allowing leaks to occur.
Leaks can cause significant damage to turbine instrumentation and insulation and may jeopardize operations and workplace safety. Recently, Nord-Lock Group partnered with a 501F gas turbine fleet owner who had experienced such leaks for over 20 years. Together they ran a joint R&D project to find a better solution.
A need for a more permanent solution
"Previous fixes available to fleet owners have been either temporary in nature or consist more of containing the leak rather than stopping it," says Jeremy Hersom, Business Development Manager, Power Generation, at Nord-Lock Group.
A popular type of containment fix is to weld-on leak boxes. However, apart from failing to stop the leak, they also require removal and reinstallation during an outage – adding time and cost to the outage schedule.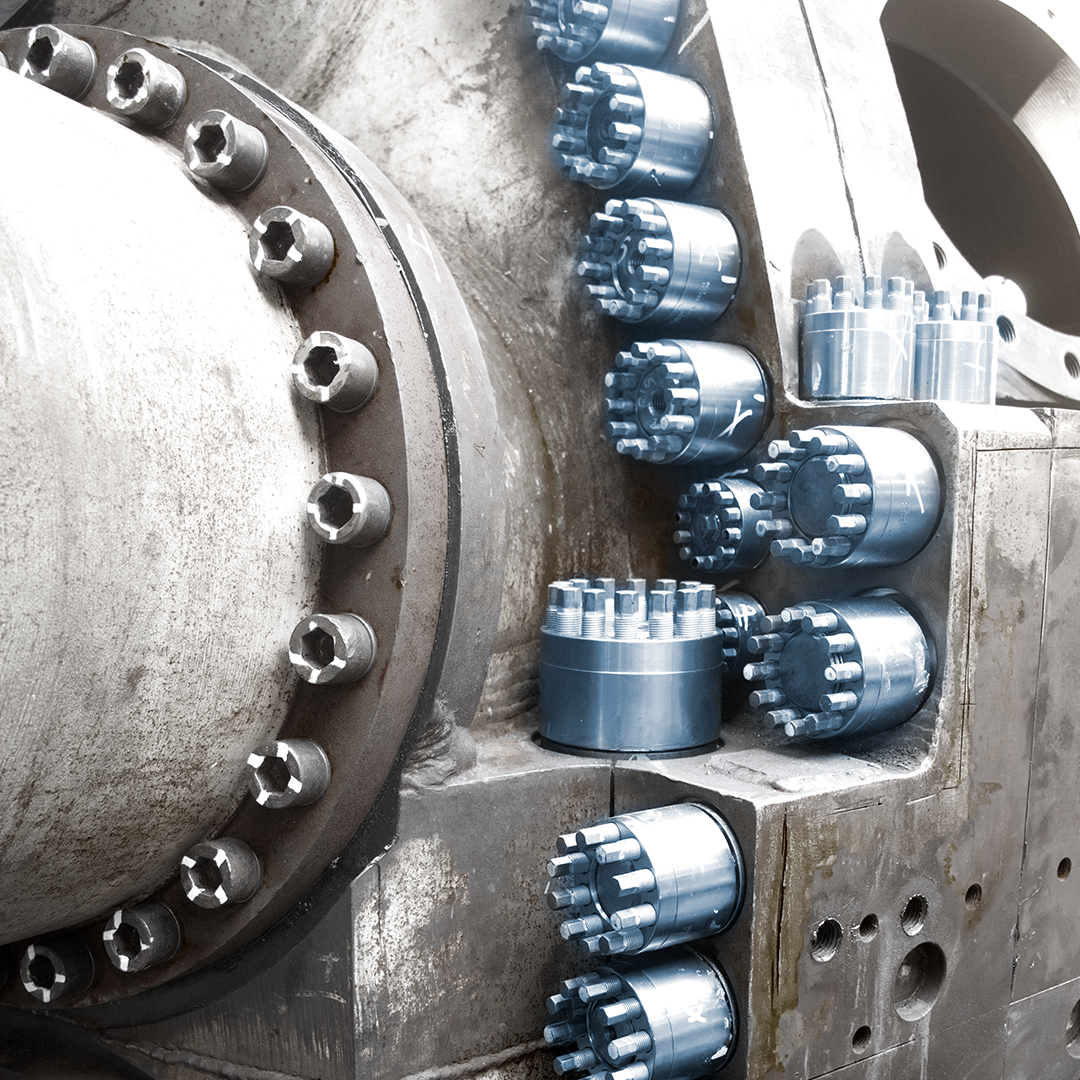 "Previous fixes also tended to focus on a singular cause to solve the leakage issue," Hersom says. "By contrast, our solution combines multiple products and technologies across our product portfolio to address multiple contributing causes for leaks."
During the project, Nord-Lock Group power generation experts had open access to the fleet owner's turbines so they could study cylinder configurations and leak causes.
"Having open access to the 501F gas turbines proved critical to the successful diagnosis of multiple contributing factors to leakage," says Hersom.
"This was very much a learning process over time, as several solutions were developed and tested."
Ingenious combination of technologies
After comprehensive testing, the most effective solution was a combination of multiple Nord-Lock Group products and technologies. To start, a Boltight Hydraulic Closure System (HCS) is used to quickly and temporarily ensure the cylinders are aligned and that the 4-way joint is tensioned. If, after the cylinder has been squeezed by the HCS, a bolt hole or flange is still misaligned, a CamAlign tensioner system is used to realign the cylinder. This can close an internal gap by 2-4 millimetres, ensuring the smallest possible gap is achieved.
The HCS is pressurized to simultaneously and uniformly squeeze the turbine cylinder around the 4-way joint – thus isolating the area. Multiple hydraulic tensioners maintain the pressure while internal and external gap readings are recorded, and the cylinder alignment is checked.
Once these adjustments are complete and the 4-way joint is correctly aligned, the joint is again squeezed using the HCS, which allows the load to be transferred to the Superbolt mechanical multi-jackbolt tensioners to permanently tension the joint. Rather than tension each bolt one at a time, which can create movement in the load, the HCS immobilizes the entire joint and maintains total stability as each bolt is tensioned.
Finally, an internal seal is installed as an added layer of protection in the area where the combustor cylinder and turbine sections meet. This eliminates any leakage not prevented by realigning the cylinders.
The best solution on the market
The combination of Nord-Lock Group solutions – including multi-jackbolt tensioners, hydraulic closure systems, and alignment tensioners – has since been tested and trialled in the fleet owner's operations and has proven effective in preventing 4-way joint leaks. There have been no forced shutdowns due to instrumentation or insulation damage and it has provided a safer working environment inside the turbine enclosure.
The overall feedback from the turbine fleet owner is that "it is the best solution for 4-way joint leaks currently on the market."
While this particular solution is unique to 501F fleet owners and their specific turbines, the knowledge and experience gained will prove valuable for Nord-Lock going forward.
"Turbines share a common principle: a wheel or rotor revolves to produce power through movement," explains Peter Miranda, Regional Sales Director, Nord-Lock Group. "The lessons learned by our Power Generation experts increases our expertise and can be applied to solve similar leakage problems."