Your result
| | |
| --- | --- |
| Locking ability | 3 out of 5 |
| Reusability | Not Applicable |
| Worker safety | 2 out of 5 |
| Initial cost | High |
| Lifetime cost | Medium |
Are tab washers effective
against bolt loosening?

Tab washers are a mechanical locking solution that secure bolted joints using a physical barrier. The washer itself is a thin piece of metal usually rectangular or circular. The tab washer is installed between the bolt head/nut and the mating surface, and the bolted joint is tightened like a regular bolt. Once the bolt has been tightened, the tab section of the washer is knocked up around the bolt head/nut to lock it in place and prevent any rotation.

The locking function of the washer is normally good, however, numerous cases of badly installed, thus inefficient, tab washers have been reported by large MROs and asset owners. The major disadvantage is the complex assembly method.
Read the full version in the eBook "Why do bolts loosen?"
(A comparison between common bolt securing options)
Scroll down to access the ebook.
Which bolt locking product should I use?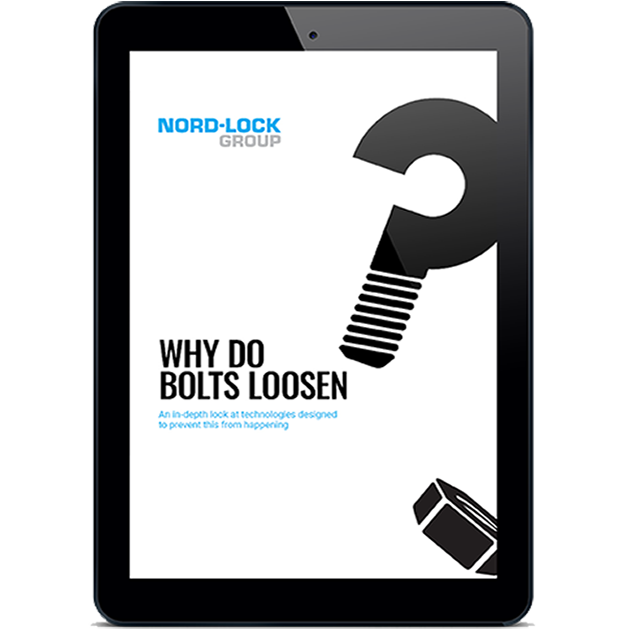 Pros & Cons of different bolt locking methods
A Guidance for Selection, to help you decide which product to use in your applications
EVER EXPERIENCED HAND INJURIES WORKING WITH TAB WASHERS?
Talk about bolting challenges with us!
Do you need guidance choosing the best bolt securing solution for your application? Let our bolting experts guide you.