Improving offshore safety through certification
With nearly a quarter of a century of experience testing bolted connections at Det Norske Veritas (DNV), Andrzej Serednicki has carried out dozens of highly demanding tests to ensure the highest safety standards in the offshore oil and gas industry.
What is Det Norske Veritas and what is its role in the offshore industry?
"DNV was established as a small society in 1864 with the aim of saving lives and the assets of Norwegian shipowners. After North Sea oil production started on a large scale in the 1970s, it moved into verification of oil and gas equipment and today has 300 offices in 100 countries, as well as clients including Exxon and Shell. As a foundation – it is neither owned by the state nor by private industry – we are truly independent and all our revenues are put back into devel­oping our services."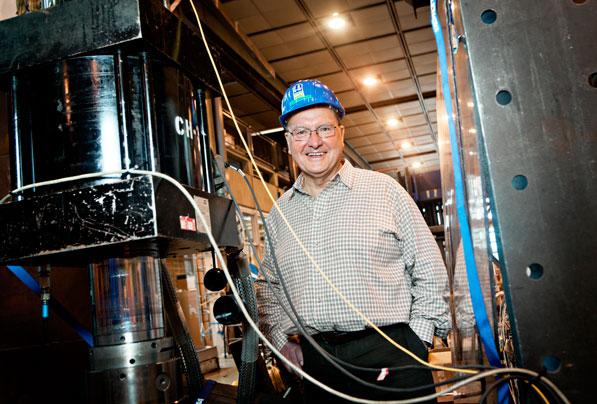 Why do companies come to you for product certification?
"If you are the owner of a ship or an oil rig and are investing hundreds of millions of euros, you don't want to have any failures. You want a third party to check that the components work as they should. This is where we come into the picture – to ensure that the design and manu­facture of a particular product is correct and meets certain specifications."
What is the certification process?
"This is an extremely rigorous process so we start with a review of the design documentation. Once we have gone through the design and are satisfied with it, then we may test the product to ensure that it meets the requirements that will be placed on it. We then proceed to the production process. We want to know that when the company starts manufacturing this product, the quality and the desired properties will also form part of the manufactured items. So we send our inspectors to the manufacturing plant to check the company's management system and see how they handle their production to ensure the quality of the product. Then, and only then, can we issue the certificate."
How do you test bolting solutions?
"Our tests are extensive, going deep into the problem using experts from disciplines such as metallurgy, structural strength, corrosion protection, and instrumentation technology. Tests can take weeks or months. When we are asked to test a product, the first step is to establish the conditions in which it will be used. We then aim to simulate these conditions in the laboratory. When we tested Nord-Lock washers, for example, we knew they had been verified in a Junkers vibration test, but we know from working with bolted connections offshore that impact and fatigue loads must also be taken into account. So we proposed additional tests to address these properties."
What proportion of the products you test attain DNV certification?
"If the owner of a product does not truly believe that their product will meet our standards, they won't ask us to certify it, so normally the manufacturers that come to us are very confident that their product is good. If a product does not meet our requirements, then we will sit together with the designer or manufacturer and try to find out what the problem is, and how it can be rectified."
FACTS: Andrzej Serednicki
Role: Principal Engineer, Technical Advisory Ship and Offshore, Det Norske Veritas
Background: Masters Degree in Civil Engineering from the Technical University of Łódz´, Poland. Following further studies at Chalmers University of Technology in Gothenburg, Sweden, Serednicki started work at Det Norske Veritas as a concrete specialist. He has been working with bolted connections for nearly 25 years.
Lives in: Oslo, Norway.